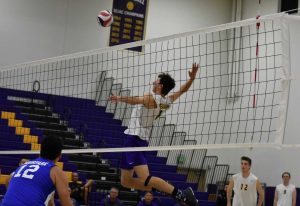 The California Lutheran University men's volleyball team, now currently ranked number thirteen in the nation for Division III, ended its season in successful fashion, giving the program its first ranking in program history.
The Kingsmen season concluded on a seven game win streak, which saw them win great games while on the road in Boston, Massachusetts and their final game of the season against Moorpark College where they swept them in sets.
"The day we opened up the page and saw our names on the national rankings list was surreal.  This team is one of the hardest working, dedicated teams I have ever had the pleasure of being on, and seeing our hard work pay off felt amazing," said sophomore middle blocker Justin Dietrich.
Cal Lutheran ended their great run with a record of 19-8, 7-5 at home and 6-3 away, while having a 6-0 record at neutral sites.
The Kingsmen swept 15 matches throughout the season and also had 11.89 kills per set and a .276 hitting percentage.
Head Coach Kevin Judd said the team's chemistry and the goals they set played a huge part in the team's success.
"Some of our first goals started with having a better record than we did last year, then we built on that and wanted double digit wins and it just kept building and the guys started to see their potential," Judd said.
The Kingsmen will be bringing back all but one player from this season's team, putting them in the driver seat to do some damage next season.
"I think we grew as a team this year mentally and physically and that's really shown on the court and in our record this year. With this year of experience now behind us we look forward to next year and our playoff push," said sophomore outside hitter Andrew Reina.
To better prepare themselves for the next season and their playoff of run, the Kingsmen will look to add tougher teams to its schedule to give them a better chance of making the playoffs as an independent team.
"Scheduling is kind of like a puzzle for me; I have to figure out how well teams are going to do next year and I need to anticipate how they are going to finish and then try and find a match with them," Judd said.
Even without making the playoffs, the Kingsmen had their best year since the programs reintroduction to Cal Lutheran in 2016, and locked up their first winning season as a program. They will look to use this to propel them forward into a playoff berth next season.
"Next season we have a series of matches against teams ranked in the top 10, including Springfield College, the current Division III national champions.  So they are our goal to work for and beat this upcoming season," Dietrich said. 
The Kingsmen will be lead by  four seniors in 2019. With more experience under their belt, Cal Lutheran will look to improve next season and continue to grow as a team.
Dillon Brown
Reporter