The cast performances of the opera rendition of "Hansel and Gretel" had California Lutheran University students and community members in for a treat. The Cal Lutheran Creative Arts Division production featured a children's chorus, chamber ensemble and double casting of characters.
The roles of Hansel and Gretel were double cast, having two actors for the same role alternating performances. First-year Anika Valdez and junior Maddy Barnes portrayed Hansel. Senior Brooke St. John sand sophomore Rachel Counihan both performed the role of Gretel.
"We would switch off learning and doing different parts of the opera, but we definitely got equal practice and we're treated the same," St. Johns said. "It was nice having someone double your role because of how much singing we would do. There's no way I could have done all the shows."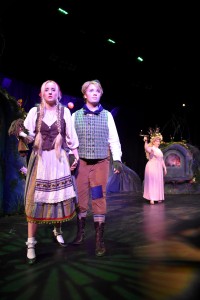 St. Johns said that "Hansel and Gretel" is her first opera production and her role as Gretel required a lot of practice.
"I'm not used to doing so much movement when singing. It's usually difficult enough just [singing while] standing with minor movements…My voice would get strained some days because of how much I'd be working," St. Johns said. "But you just have to stay vocally healthy by drinking tea and taking good care of yourself."
Thousand Oaks community member and film major David Herwalt attended the April 22 showing of "Hansel and Gretel," in which St. Johns portrayed Gretel.
"I would have never known that [St. Johns] hadn't performed opera before," Hewalt said. "She has an incredible musical talent and I actually prefer the opera version more now than the original after hearing all of the songs."
Junior Ryan Valenzuela, who was the percussionist in the production of "Hansel and Gretel," said that he enjoyed the opera adaptation because it set good music to an already great story.
"I played some of the main instruments under that term like bass drum, glockenspiel, triangle and crash cymbals," Valenzuela said. "I also played the cuckoo which is more or less unique to the 'Hansel and Gretel' opera."
Herwalt said that the cuckoo song is what set the story apart from any traditional telling.
"I loved the scene where the sound of the cuckoo rings throughout the forest when Hansel and Gretel are growing tired," Herwalt said. "It sounds so lonely and haunting in that context."
Valenzuela agreed that the cuckoo song was his favorite of the production.
"It was just so much fun to play and it's iconic for this opera," Valenzuela said. "It's also cool because the two singers, the flute,and myself are all doing a call and response of the cuckoo motif."
Englebert Humperdinck's opera rendition of "Hansel and Gretel," directed by Heidi Valencia Vass, ran from April 19 to 22 at the Preus-Brandt Forum.
"I loved the production process, it was so much fun. The director was amazing and Jessica [Helms] our pianist is so talented. Every rehearsal was such a fun and amazing experience," St. John said.
Brandy Alonzo-Mayland
Reporter