The construction of a new science facility in the academic core of California Lutheran University is underway, kicking off a two-year project that will unveil the largest academic building on campus by the year 2020.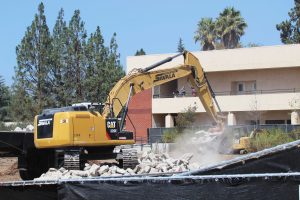 Associate Vice President for Operations and Planning Ryan Van Ommeren said a groundbreaking ceremony was held in February and construction officially began in July with tree removal. However, planning for the project goes as far back as 2007.
"The appeal to the science major, having a new modern building with spacious labs, and the ability [for] students to do undergrad research, all those things, recruitment, retention…I think the whole campus is going to feel more mature," Van Ommeren said.
The new building will be connected to the existing Ahmanson Science Center by a bridge walkway and will house the chemistry department, biology wet laboratory classes, two exercise science laboratories and 24 faculty offices.
According to an email sent to students and faculty by Van Ommeren, the Spine will be closed for approximately four weeks beginning Monday Sept. 10 as utility lines are moved so as not to conflict with footings for the new building.
Additionally, eight parking spaces around the site were eliminated, and construction noise can be heard in classrooms near the site. Christine Cano, project and space manager at Cal Lutheran, said the noise should lessen as demolition finishes up. 
Last winter, the A/B and F buildings were demolished and art classes held in those buildings were moved to the new William Rolland Art Center across West Olsen Road. Last winter, A/B and F Buildings were demolished and art classes held in those buildings were moved to the new William Rolland Art Center across West Olsen Road.
As for why construction did not begin earlier, Van Ommeren said that a long permit process and complexities surrounding a new process where steel is pre-fabricated off-site, which will allow beams to go up within weeks, prevented more from being done before the semester started.
"These things just take time," Van Ommeren said.
Occupants of D Building, which houses several classrooms and faculty offices, have particularly been affected by construction. Because the building's water line runs through the site, there will be no water until Oct. 19, closing in-building bathrooms for the time being. Noise during tree removal was at one point so loud that professors thought the building was hit by a bulldozer, Cano said.
John Deisz, professor and chair of the physics department, has an office in D building and said the main concern is restricted access from construction fencing that nearly encircles the building. 
"For people that work here, it just adds five minutes, you know, multiple times during the day as they need to go to different places on campus," Deisz said.
Deisz said that facilities had been responsive in addressing issues like providing drinking water, and there had been discussions about improving access to the D building.
As of Sept. 5, a second point of access through the south end of D Building was opened, Cano said. Additionally, Cano expects traffic to be affected on Pioneer Avenue from Sept. 24 to Oct. 4 as utility work continues to the west of the site.
"During the day, half of the street will be closed to traffic, and then it will be opened up at night. They'll flip-flop from one side to the other side of the street as they do their work," Cano said.
Facilities will notify those affected by construction via email sometime during the week before the expected impact, including occasional emails to the entire campus community, Van Ommeren said.
"We're kind of busting at the seams in the sciences, and especially some of the bigger majors like biology and exercise science, and this is just an absolutely necessary thing for our campus to move forward," Deisz said. "This is just kind of natural that there will be some inconvenience. I think as we get closer to the finish people are going to be really excited."
The Cal Lutheran community can stay up to date on the project by checking in on a webcam positioned on the top of the Swenson Center, facing the construction site. A link will be posted to the Cal Lutheran website soon.
Ellie Long
Reporter