An Organic Transition: The SEEd Garden's First Female Director
For Kristin Ritzau, becoming a part of the SEEd garden happened organically. She has her own urban farm complete with 24 fruit trees, 12 chickens and more zucchinis and pumpkins than she knows what to do with. The religion professor-turned-gardener is fit to settle into her new role as director of the garden.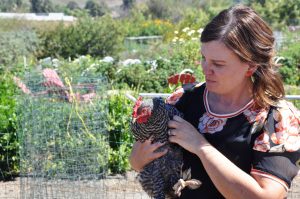 "Many students don't even know the garden is out there. It's such a place of beauty," Ritzau said.
After joining the California Lutheran University religion department two years ago and connecting with professor Sam Thomas, Ritzau became involved with the small but thriving student-run operation. When Thomas decided to step down as SEEd Garden director after nine years, Ritzau was a natural replacement. 
"Dr. Ritzau has a long and rich experience working with the land and mentoring students," Thomas said in an email interview. "She was ready to jump right in and bring her own already well-developed ideas and practices to the work of the SEEd project."
Some of Ritzau's new ideas for the garden are to bring awareness to the space by building relationships between professors and students, which aligns with her life philosophy,  "make the table longer rather than building walls." She plans to do this by encouraging other professors to teach in the garden's outdoor classroom and learn from the environment.
Senior Olivia George, who first got involved with the SEEd Garden this past summer, said, "I know that she's well-educated in sustainable farming and just the garden in general. She just really knows her stuff."
Ritzau learned her "stuff" from Westmont College, where she earned her degree in communication studies. She then attended Fuller Theological Seminary to receive her master's in leadership studies. According to the SEEd Garden Facebook page, she also received her Ph.D. from the Claremont School of Theology where her dissertation explored women in U.S. agriculture.
Ritzau brings her educational background into the classes she teaches by holding class sessions in the outdoor classroom. One way she has incorporated the garden has been by talking about food waste and ways to compost these leftover scraps.
"I didn't plan on talking about food waste this early in the semester, but one day while teaching class out in the garden, a trash truck drove by interrupting lecture and it was a perfect example," Ritzau said.
Ever the innovator, Ritzau has motivated  her students to bring leftover scraps to the garden's compost shed. George said the garden also collects coffee from the campus Starbucks and scraps from Ullman Commons that get turned into compost to fertilize the garden soil.
"She really cares about developing community, and about engaging young people in a holistic and authentic way," Thomas said.
Her engaging authentic leadership style is what propels Ritzau to further her idea that the garden is a "classroom without laws."
Alejandra Gonzalez
Reporter