Kingsmen start season with success on pitch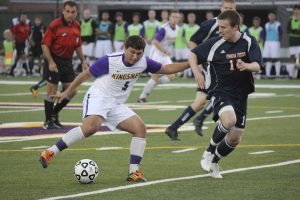 The new uniforms won't be the only difference you will notice on the field for this year's men's soccer team. What is much more important than their looks; is their play.
Coming off a disappointing three-win season last year, CLU has already reached that mark in 2012 with two non-conference wins over Pacific University (Ore.) and Hampden-Sydney College (Virg.) and most recently, a 3-1 victory over the University of La Verne.
Head coach Dan Kuntz, who notched his 200th win after the Hampden-Sydney game, can definitely see an improvement from last year.
"We all learn from things and last year's team had a lot of adversity. Coaches call them excuses, but there were some realities there. Some kids went through a lot," said Kuntz, who is entering his 19th season as head coach. "The great thing about it is they didn't fall apart. They stayed together, they trained in the offseason, they came back, and they have a resolve not to have it again, not to go through that kind of season again."
Junior goal keeper, Rey Rivera-Ramos also sees a change in the way that the team has developed coming into this season.
"This team brings a lot more talent, heart and experience. We approached this year differently by coming more physically, mentally and technically prepared," said Rivera-Ramos.
Along with Rivera-Ramos, key returners including Ivan Sanchez and Raul Yepez help the team. But there have been some newcomers like Alex Wardle and Peter Keks who are making an impact fast.
Keks, a junior defender, played football last year for the Kingsmen.  He couldn't be happier with his decision to change venues and pursue the sport he loves.
"Everyone is so close like a team should be. We are willing to fight and grow together as a team even if it means failing at times and learning from our mistakes," said Keks.
The Kingsmen opened their Southern California Intercollegiate Athletic Conference play on Monday, Sept. 10, against Pomona-Pitzer in William Rolland Stadium. They ended up losing 1-0, but bounced back with a win over La Verne on Wednesday, Sept. 12. That hot start gave Kuntz high expectations for his team this season.
"I'd like us to get in the top four of the conference. I'd like to see us make the SCIAC tournament," Kuntz said.  "We want to go to the NCAA tournament again and I'm telling you, this team, if we get in the top four, we're going, that's our objective."
As the competitiveness of the first two SCIAC games indicated for the Kingsmen, the conference is up for grabs.
"This will be a very tight league, any given day one team will knock off another one. The key is which team can do their thing, be consistent, and get the results to get themselves there," said Kuntz.
Rivera-Ramos and Keks both share the same sentiment as their coach. They both see the team making the SCIAC tournament and following that up with a NCAA tournament birth.
"When you have a team like that, all the way to the last second of the game they will fight even if they're losing, you have a chance to be champions. That's what we have to do. We have to stay on that track. I'm so proud of this team," said Kuntz.
Craig Jacobson
Staff Writer
Published Sept. 19, 2012