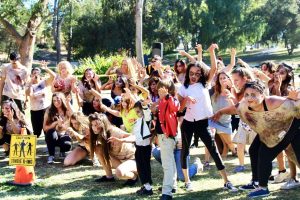 Zombies danced the afternoon away to Michael Jackson's single, "Thriller," in the name of charity.
For the fifth year in a row, California Lutheran University hosted the worldwide synchronized dance event called "Thrill the World" in Kingsmen Park Oct. 27. Community members, students and event volunteers were invited to dress up as zombies, learn a dance to honor the late singer-songwriter and make optional donations to the Rwanda Education Fund.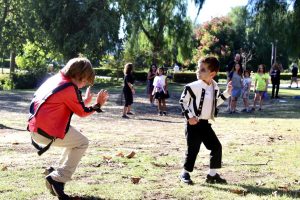 The REF is a project administered by World Dance for Humanity, a Santa Barbara-based nonprofit. The organization provides food, agricultural training, education and humanitarian aid to 9,021 people in 25 rural cooperatives in the wake of the 1994 Rwandan genocide, according to the WDH website.
The nonprofit hosts dance classes in local communities in addition to Thrill the World. All proceeds and donations from classes and events fund the grassroots projects in Rwanda, Nepal, Guatemala, Kenya, Liberia and Uganda.
Thrill the World is an annual dance event that has taken place on five continents and has broken the Guinness World Record for largest Thriller dance in one location.
Cal Lutheran's department of theater and dance partnered with WDH and Thrill the World to present the zombie dance event to Thousand Oaks residents for free.
Olivia Schouten
News Editor