Knights Hockey Dedicates Win to Justin Meek, 23, Killed in Borderline Shooting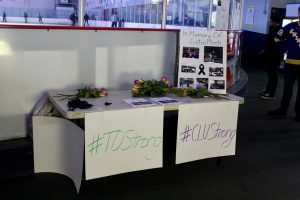 To the California Lutheran University Knights ice hockey team and the Thousand Oaks community, Saturday night's match was more than just a game.
The Knights dedicated their first home game of the season to former medic, manager, "No. 1 fan" and friend Justin Meek. Fans, students and members of the community gathered at the Iceoplex in Simi Valley to support the team and honor Meek and the other 11 people who lost their lives during the horrific mass shooting at the Borderline Bar and Grill Nov. 7.
Before the game, both teams, as well as some of Meek's family and friends, gathered on the ice for a moment of silence to honor each of the 12 victims: Justin Meek, Alaina Housley, Blake Dingman, Daniel Manrique, Jake Dunham, Kristina Morisette, Mark Meza, Jr., Noel Sparks, Cody Coffman, Sean Alder, Telemachus Orfanos and Sgt. Ron Helus.
Cal Lutheran alumnus and former Knights player Antonio Foreman spoke about the lasting impact his close friend Meek had made on the Knights. Announcer and Cal Lutheran junior Joe Zimmerly said a prayer for the victims and the community while those in the crowded stands lit candles for them.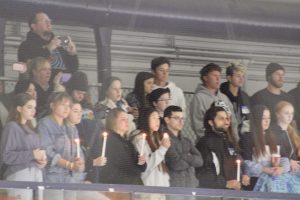 "To Mr. and Mrs. Meek, and Victoria, our team thanks you for the gift you gave us," Foreman said in a tribute from Cal Lutheran Knights hockey program. "This team is a family. This school is a family. And you always have us to call upon and we will never stop being there for you."
Foreman, who spent more than four years as a founding member of the Knights, said Meek was one of his closest friends.
"When we started this program, Justin always took care of the team in any way he could," Foreman said. "His kindness and infectious character touched us all. We are here to dedicate tonight's game to a hero who saved so many lives."
Other Cal Lutheran alumni traveled from out-of-state to show support for Meek and his family.
Alumnus Grant Yurosko said he and his wife, alumna Sarah Yurosko, traveled from Northern California to be with their "hockey family." He played two seasons of Knights hockey while Meek was the medic, and, like so many others who knew him, said Meek was positive, selfless and "a really great guy."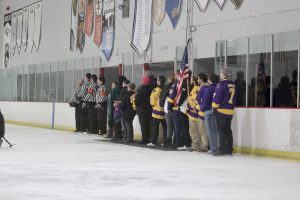 After an emotional ceremony, the Knights took the ice against the California State University, Bakersfield Roadrunners. The first home match of the season was a rematch against the Roadrunners, who had previously defeated the Knights.
"Everyone was already kind of pumped up for this match knowing that we really wanted to get the win and then having it be in honor of Justin was even more of a motivator," forward Morgan Griffith said.
Cal Lutheran scored a quick three goals in the first period, two of which were from senior center Brendan Ward. Right wing Andy Aroutiounian scored a third goal for the Knights with two minutes remaining in the period.
In the second period, alumnus left wing Blake Stevens and Aroutiounian scored two goals each, and forward Elliott Cutbill put away another one. Though Bakersfield scored one goal, the Knights refused to ease up.
"Our team came together and just stayed focused throughout the entire game and never really let go of the control," goalkeeper Jordan Eisenmann said. "No one took it easy, even when we were up on the scoreboard."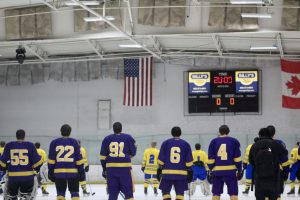 The Knights defeated the Roadrunners with a final score of 9-1. Junior captain and defender Jake Olenak said they wanted to use the game as a way to bring the community together.
With a packed stadium braving the cold temperatures, Ward said the support from the community and the turnout for the night meant a lot to the team.
"It was really important to us and, I think, to Justin's family to have so many people out here in memory of him and all the other victims of the shooting," Ward said. 
Head Coach Zach Margeson said the night was about bringing some positivity in the face of so much tragedy.
"I get it's club hockey…but it's more than that. A community can use something like this, even if it's something as small as this," Margeson said.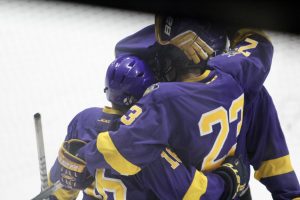 Foreman said that prior to the game, the Meek family joined the team in the locker room, where the players were able to speak with them and remember Justin in their own way.
"Justin will always be in our hearts and our minds and we will never forget his sacrifice," Foreman said.
The Knights will continue their season with a home game against Loyola Marymount University on Saturday, Nov. 17 at 9:15 p.m. 
Tristan Jackson
Reporter
Brooke Stanley 
Sports Editor