As the smoke clears from the sky, we go outside again—slowly. Not taking off into a sprint but easing back into things, aware that there has been damage to the air. Grief works the same way.
Following the mass shooting at Borderline Bar & Grill, two fires threatened the region forcing some community members to flee their homes. Just hours after the tragedy. As classes resume at California Lutheran University, many students and faculty are in various stages of grief.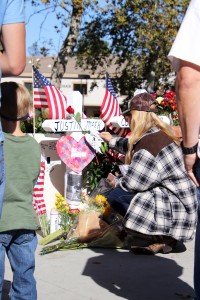 Pastor Hazel Salazar-Davidson knows grief personally. She became a widow three years ago. She said that she established rules for her family to do their "grief work," which allowed each person to feel respected in their grieving process.
"The rules were just that we hold one another with grace and respect when we share, so that means you can say anything. Well in our family, we could say anything and we would listen and try to hear each other," Salazar-Davidson said.
She said the second rule she established was that everything someone felt was normal, whether anger, sadness or laughter. Salazar-Davidson said that all of those emotions are part of the grief process and that they should be honored because grief is "holy work."   
Salazar-Davidson said that her grief-work began while she was in seminary school to become a pastor. She said that getting back into academic life took a lot of mindpower and that she would break up her tasks into "bite-size portions" so she did not get overwhelmed.
"Have a lot of grace with yourself and say 'you know what, grief work is hard work,' and it's OK if you can't finish your paper right now.  Maybe you needed to step away and take a break and have a phone call," Salazar-Davidson said.
Salazar-Davidson said that sharing with other people and coming together as a community is beneficial to the grieving process. Dr. Ginny Maril, director of Counseling and Psychological Services and a licensed psychologist echoed Salazar-Davidson's sentiments, emphasizing that it is helpful to grieve as a community.
Maril said that students can support others who are in the midst of grief simply through letting them experience what they are feeling. She said that it is important to ask someone how they are "holding up," and that while some people may want to act strong, everyone will "take turns being strong" for each other.
"Now is clearly the time to be vulnerable and let people know where you're at," Maril said.
Being vulnerable with grief helped Salazar-Davidson with her own family's experience with loss. She encourages those directly dealing with grief or supporting others who are grieving to accept each other wherever they are.
"I never wanted my children to feel like that moment was wrong but that that moment was holy and that we hold it sacred it's like standing on holy ground almost you know, with one another which is really difficult to do," Salazar-Davidson said.
Both Salazar-Davidson and Maril emphasized that grief is not linear, and it does not have a clear start or end time.
"Sometimes when people try to
come at it they're, like, trying to reach a goal and decipher, like, how they're going to do it and give themselves rewards like they're on a diet or something," Salazar-Davidson said. "That's not what this is. You're just trying to be gentle with yourself."
Maril said she encourages people to practice asking for help. She said students can go into CAPS and ask to sit with someone or check-in as little or as often as they want.
CAPS is offering counseling and support for whatever students need with no appointment necessary. Maril said that in the upcoming weeks, CAPS is also planning on offering group sessions for those who were at Borderline to debrief and reflect.
As the process of grief continues, CAPS and Campus Ministry are both available as resources for students. CAPS after-hours crisis hotline for Cal Lutheran: (877) 715-2440. Office of Campus Ministry (805) 493-3228.
Nicki Schedler
Features Editor