Remembering 'Big E': Maintenance supervisor leaves legacy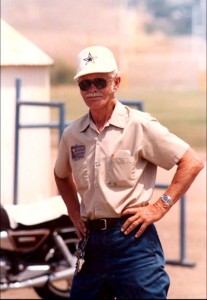 Eldon Milford Hagen was a fixture at California Lutheran University.
Known on campus as "Big E," Hagen was the maintenance supervisor for the California Lutheran College (and later California Lutheran University) Athletic Department from 1963 through 1988.
Hagen died Wednesday, Oct. 3 at Muse Norris Hospice Unit in Mason City, Iowa at the age of 95. He is survived by his wife of 68 years, Rozella Hagen; six children, Annette, Connie, Mark, Mike, Steve and Scott; twelve grandchildren; and seven great-grandchildren.
Hagen also leaves behind a 25-year legacy at Cal Lutheran.
"Everybody knew him. Everybody loved him," said Karsten Lundring, a class of '65 alumnus.
Those who knew Hagen remember him as a quiet, kind hard worker true to his word and strong in his faith.
The WWII Army Air Corps veteran maintained all the athletic facilities, including the basketball courts, baseball field, track, football field and locker rooms. He was also involved in other school and community events that took place on campus, as well as the annual Dallas Cowboys training camp.
"We couldn't do anything without Eldon," said alumnus and former Kingsman football player Bob Trevathan ('66). "If he wasn't there, then we were kind of lost in so many ways."
Hagen began working at CLC just five years after its formal incorporation in 1959. Lundring said at that time, the campus was made up of the Pederson and Thompson dorms, three chicken coops converted into buildings, the D building and the gymnasium (now the Black Box Theatre).
"You had to appreciate people like that back then because they were making all this out of whole cloth," Trevathan said. "You didn't go in and take over for somebody else. You had to kind of invent the job."
One of the people Hagen worked closely with was former CLC football Head Coach Bob Shoup. Shoup began a long friendship with the Hagen family in 1963, the same year the Dallas Cowboys began training at Cal Lutheran every summer. Shoup said Hagen was dedicated to his work and took pride in it.
"It was just an inspiration because everything that he did was well-done. You could always count on him," Shoup said.
Because the football team could only afford one bus at that time, Shoup and Hagen would often drive players in their motorhomes to games as far as Oregon and Washington.
"Eldon and Rozella Hagen would take one group of players and Helen, my wife, and I would take another group so it was just always fun," Shoup said.
Eldon Hagen's wife, Rozella Hagen, said she feels grateful to have been able to raise their six children in the Cal Lutheran community. The Hagen family lived in Thousand Oaks, just off campus, for about 30 years. Rozella Hagen, along with five of her children, graduated from Cal Lutheran.
"It's one thing to be in a college community, but it's another thing to be a part of the college community. And we were a part of it and it was good for all of us," Rozella Hagen said.
Hagen's youngest daughter, Connie Johnson ('76), said both of her parents were very involved in the school and surrounding community and that the family's "whole life revolved around stuff that was happening on campus."
Rozella Hagen said she has many good memories from her family's time in the Cal Lutheran community.
"Oh, he loved the place. He worked hard for it, but he liked it. And he met a lot of wonderful people," Rozella Hagen said.
Art Department Chair and Multimedia Professor Tim Hengst ('72) was a football player and student worker under Hagen. During Hengsts' summers working for Hagen, he said he became close with him and even kept in contact after he retired.
"He was the kind of person that made you want to work hard just because you liked him and respected him," Hengst said.
Defensive Coordinator Coach Scott Beattie ('80), who played football with two of Hagen's sons, Mike and Steve, said they might have been the best-kept field in the country.
"It was like playing on a golf course. The grass was perfect," Beattie said.
Hagen's habit of keeping the field in perfect condition continued even after he left Cal Lutheran.
"He was very fussy about how his lawn looked and we would always have to remind him that 'This is not a football field, dad,'" Johnson said.
Eldon Hagen also worked closely with the Dallas Cowboys. Steve Hagen said his father was close friends with many of the Cowboys staff and often took morning walks with Head Coach Tom Landry.
Outside of his work at Cal Lutheran, Hagen was also involved in the City Recreation Department, Ascension Lutheran Church, the Community Leaders Club, the Boosters Club, the Squires Club and the Fifth Quarter.
After his retirement, Eldon and Rozella Hagen moved back to their hometown of Forest City, Iowa, the city where they had first met in a roller skating rink nearly 70 years ago. There, they continued to be devoted members of their church and community.
Caroll Carson, a member of West Prairie Lutheran Church in Forest City, attended and routinely volunteered there with Hagen. He said Hagen always looked back fondly at his time at Cal Lutheran, and told stories about working with Cowboys quarterback Roger Staubach, President and General Manager Tex Schramm and Landry.
Hagen was inducted into the Cal Lutheran Athletic Hall of Fame in 2006. Displayed in the Gilbert Sports and Fitness Center, his plaque reads, "a huge part of the history of CLU, Hagen displayed great dedication and work ethic while helping CLU athletics grow."
"It kind of feels like the end of an era," Trevathan said.
Brooke Stanley
Sports Editor