Students, Genetics Research Study Wins First Place in Competition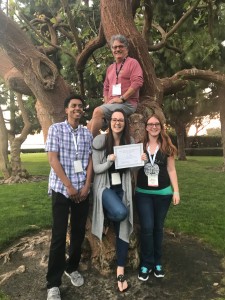 The work does not stop for Professor David Marcey's research lab group, who won first place at the National Association of Biology Teachers (NABT) in the Undergraduate Mentored Research Competition.
The competition took place on Nov. 8 in San Diego. Marcey, a Fletcher Jones professor of biology at California Lutheran University, has a laboratory that involves students ranging from sophomores to seniors. The particular group who presented research at the competition were only three of the students on his lab team and this is the first time anyone in Marcey's lab has presented research in the competition. The research they presented was a cumulative group study that included from past and current information gathered in Marcey's genetics lab.
The group included seniors Lauren McAllister, Makena Wolfrom and Dagem Getahun. All three are part of the biological honors program.
"It's looking for novel sources of genetic variation in natural populations," Marcey said. "As some may know, natural selection acts upon…genetic variations that is out there as a driving force for evolution."
Marcey said these projects are not short-term studies. Research from one year may blend into the research of another year.
"The gist of it has to do with a P element, which is a portion of your DNA that can jump around and, traditionally, we understand that to cause mutations because it reinserts itself in an orientation that messes up the gene reading," McAllister said.
The group proposed that instead of the element moving around and causing a mutation, its presence induces gene silencing because it is inserted in a reverse orientation, McAllister said.
The group works on fruit flies called Drosophila Melanogaster. Each student is working on different projects to try and support their proposal. McAllister said if their proposal is supported with sufficient evidence, it will be a big deal.
"Last year students found a mutation that really pushed our hypothesis forward," McAllister said.
The group first had to turn in an abstract to see if they would be accepted into the competition, Marcey said. The day of the competition, the group presented a poster before four judges in a session consisting of nearly 25 other schools. The poster was titled "A Screen for Cryptic Epigenetic Variation of Drosophila Melanogaster."
"I was elated, it's nice to see students rewarded for hard work," Marcey said.
Wolfrom said she "was stunned" because she "was not actually expecting [the team] to win."
"I went into the competition thinking 'Oh yeah we're just going to go and present our research and have fun,'" Wolfrom said.
McAllister said she tried to keep her cool and that it was a very exciting moment in her undergraduate career.
"It was kind of like a breath of fresh air because that was happening during the time period of everything happening," Wolfrom said, referring to the mass shooting at Borderline Bar and Grill late Nov. 7 and the Hill and Woolsey Fires that erupted Nov. 8.
Each student got a $50 check and a yearly student membership to NABT as part of their reward.
The yearly student membership includes a digital subscription to The American Biology Teacher.
Wolfrom said that at times, research can be frustrating, but is worth it in the end as she is doing something she enjoys.
Marcey said the award showcased the university's strong undergraduate research program and that the first-place win really helped promote quality undergraduate research and benefits the whole university. Engaging in undergraduate research is very important, especially to those in the sciences, Marcey said.
Vianca Castaneda-Correa
Reporter