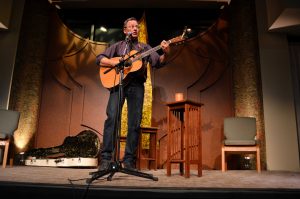 At the Conejo Valley Unitarian Universalist Fellowship Dec. 1, the sound of an acoustic guitar echoed through the congregation hall as musician Roy Zimmerman played a satirical set aimed at addressing social and political issues that have affected the nation.
Though the concert had been planned for months, church organizers Pamela Lopez and Matthew Weisman decided that all proceeds from admission tickets and donations would go to the Ventura County Community Foundation. VCCF is a foundation that has been assisting victims of the Woolsey and Hill fires, as well as those involved in the Borderline mass shooting.
"One of the daughters of our members was at Borderline," Lopez said. "She, thankfully, escaped."
The church's annual concert and speaker series invites various performers to take the stage and spread their ideas and messages.
Zimmerman is an acoustic singer-songwriter who has been in the music industry for more than 20 years. Zimmerman toured the world with his former band, The Foremen, before going solo. The Dec. 1 benefit concert was his sixth performance with CVUUF.
"The people who come here are from outside as well, maybe more than half the people that attend our events are not from the congregation," Weisman said. "It's a community service, a community forum."
Nearly half the congregation was forced to evacuate during the wildfires in November. The other members helped house those who could not return to their homes.
"I play [at] a lot of Unitarian churches," Zimmerman said. "They are a good place to find an audience for the things that I do…I started writing songs in junior high, and right away they were topical songs, funny songs about what was happening at the school. It's the way I dealt with the world, musically."
Zimmerman played a large selection of songs for the congregation, ranging from topics of former Attorney General Jeff Sessions and Senator Mitch McConnell to songs pointing out the flaws of society. Additionally, Zimmerman also discussed how shootings have affected him and the people he has played for.
"Everywhere I go, I am close, if not in a place where a mass shooting has occurred. It's not uncommon at all. I'm always playing to a crowd where there is a shooting or a fight going on. These are people who are on the front lines of these issues," Zimmerman said.
CVUUF is a part of the unitarian universalist religion that is committed to seven principles including the worth of each person, the need for justice and compassion and the right to choose one's own beliefs, according to the CVUUF website. The religion was recognized in 1961.
The congregation is comprised of people who are Buddhist, Christian, Hindu, Humanist, Jewish, Muslim, Pagan, atheist, agnostic and  believers in God.
Additionally, the CVUUF website says the fellowship has been "on the forefront of LGBT inclusion" for more than 40 years.
Christer Schmidt
Reporter