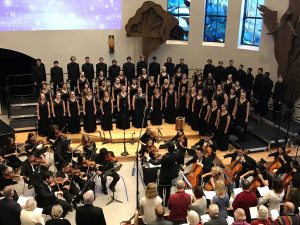 California Lutheran University's Christmas Festival Concerts provided unity and joy through music for the community during the weekend of Nov. 30 in the Samuelson Chapel.
This year's theme was "Star of Wonder," and the concerts featured performances from the University Choir, Women's Chorale, Kingsmen and Regals quartets and the University String Symphony.
This year's performances were in memory of alumnus, former chorist and Kingsmen quartet member Justin Meek, 23, who was killed in the mass shooting at Borderline Bar and Grill Nov. 8.
The concerts featured holiday staples like "Mary, Did You Know?" and "Joy to the World," as well as lesser-known pieces and reflections upon this year's theme by University Pastors Scott Maxwell-Doherty and Hazel Salazar-Davidson.
Women's Chorale member Georgia Caines said Choir Director Wyant Morton has been very understanding toward students, especially those who were close to Meek. Caines said recent events in the county have also resulted in pieces being cut shorter to adjust for loss of rehearsal time.
Strings symphony Director Yoshika Masuda said because this is one of the most popular Christmas traditions in Thousand Oaks since the school's founding, the performances offered comfort to the shaken community after the mass shooting and the wildfires.
Masuda said he focuses on picking "lively" pieces for the symphony. In the past, he's chosen music from the Baroque era, but this year's songs included "Impresario Overture" by Mozart and "Andante Festivo" by Sibelius, a 20th century composer.
"The Mozart definitely has a lot of life," Masuda said. "Then the Sibelius; that's so different. You know, it's more singing, it's more cantabile, it's just so tender and lush and uses the effects of a string orchestra to its maximum potential."
Caines said her favorite pieces were the choir's "I Saw Three Ships" and the symphony's "Andante Festivo." She said she especially enjoyed "I Saw Three Ships" because of the bells and hand chimes ringing throughout the chapel.
One challenge Masuda said he faces yearly is picking pieces "within the students' capabilities," while also preparing them to the highest possible standard to perform publicly.
"There's no greater joy than to hear them play well, and that's as if I played well," Masuda said. "But I just stood there shaking this stick; I didn't do anything. There's definitely always a sense of pride and joy when they do well."
One of Caines' favorite parts of these concerts was singing alongside the symphony, which she said she's never done before performing at Cal Lutheran.
"It's really cool to just like listen to how our parts and their parts go together, it's so different like when we're rehearsing because we're just going with piano or like acapella," Caines said.
Masuda also said he has grown through getting to conduct vocalists for these concerts.
"Working with a choir is such a joy," Masuda said. "You know, there are 60-odd people on stage…It's incredible, the sound of several humans singing together, it's quite special. And I didn't really realize that until I've conducted them."
Lauren Graf
Reporter