Coach Mac Takes On Women's Lacrosse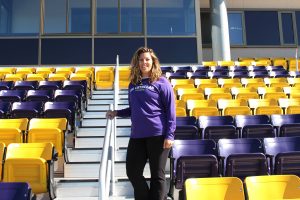 Cal Lutheran welcomes the new head coach of women's lacrosse, Laura McIntyre, or as she prefers, 'Coach Mac.' Making the move from the East Coast to the West Coast, McIntyre has landed a job she has always envisioned.
"This is actually my ultimate dream job; I have always wanted to start a program from the ground up," McIntyre said. "[While] it's a challenge to start a program which can be both scary and exciting, it is also another challenge to pick up and move out here to California, but it is what I wanted."
McIntyre grew up in Pennsylvania and began playing lacrosse in fourth grade. She's been passionate about the sport ever since, she said, playing all the way through college.
McIntyre earned her Bachelor of Arts in psychology at Gettysburg College in Pennsylvania, and later went on to get her master's in counseling at McDaniel College in Maryland. Her most memorable win was taking home a championship trophy.
"Winning a national championship my senior year was pretty cool," McIntyre said.
Even after years of collegiate play, McIntyre still wanted to be involved in the game.
"Right after graduation, I started coaching at the collegiate level as a graduate assistant coach at McDaniel College," McIntyre said.
Aside from lacrosse, McIntyre enjoys spending her free time in a variety of ways.
"I teach fitness classes. I love hiking or being outside and I like watching beach volleyball, which my fiancé got me into," McIntyre said. "I love sports in general. I'm a huge Green Bay Packers fan; I'm a cheesehead."
If McIntyre had to describe herself in three words, she said they would be "energetic, motivated and caring or honest."
These qualities also stood out to her new colleagues.Among them is Athletic Director Dan Kuntz.
"[McIntyre] is extremely organized, disciplined in her approach to building a program, enthusiastic, highly knowledgeable and [has] a great demeanor," Kuntz said. "This is her first program of her own that she gets to build from scratch. She is very driven."
When hiring someone for the athletic department, many factors go into consideration, and one of them is experience, said Associate Vice President for Athletic Affairs and Title IX Coordinator Jim McHugh.
"She brings such a great amount of experience, from Division III experience to experience with the sport from being an athlete, and continuing on to coach," McHugh said. "She is going to be a great impact and addition to the staff."
Previously, McIntyre coached at University of The South in Tennessee for over four years. She moved to California just a month ago.
"I chose to work here because of the community that Cal Lu has and how supportive the athletics department is," McIntyre said. "Being a part of a group and community that has the mindset that everyone wants to push to win and work hard every day is something I want to be a part of."
McIntyre added she looks forward to offering support for her future student athletes. Being a college student and athlete once before, she said she understands from a student's perspective the challenges that can be thrown at someone.
"A lot of students are far from home. I am your mom on campus. When something hits the fan and you need that back up, I am the one people are going to call, and I love being that for people," McIntyre said.
The women's lacrosse program is set to compete in spring 2020; however, McIntyre encourages students who have an interest in the sport to reach out to her. 
"This is my job and what I love to do, and it's where I can really help," she said. "[Coaching] is my life and it is my world…so I am a coach for a reason."
McKenna King
Reporter