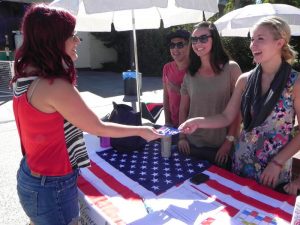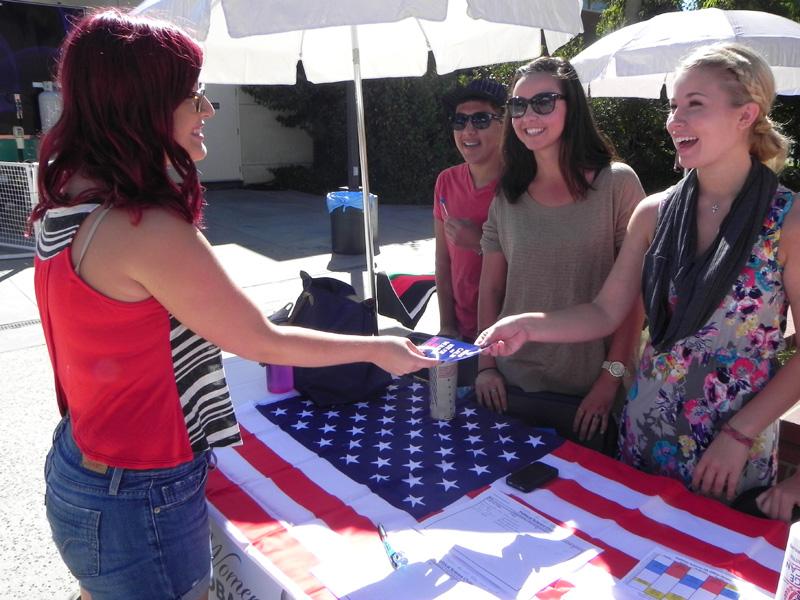 CLU's "spine" was packed  on Tuesday, Sept. 18 as clubs and organizations did everything they could to get students involved.
Club promoters pulled out every trick in the book at the Involvement Fair as 75 clubs and organizations and nine university departments took over California Lutheran University's main walkway during the afternoon.
The Kupa'a Hawai'i Club dressed up some of their male representatives in coconut bras.
College Democrats and College Republicans shared the same table and the same message. Every table gave out liberal amounts of free stuff in order to lure in students.
"The only problem is the heat right now," said Kyle Dzurko, president of the Hockey Club. Dzurko had his own unique way of attracting students this year.
"One of the things I did this year that we haven't done before is use the synthetic ice," said Dzurko. "As the president, I get control of that. It's kind of a nice little perk I got and I thought bringing it out to the club fair would get some people interested in hockey." Dzurko also brought out hockey sticks and pucks for people to play with on the sheet of synthetic ice.
He wasn't the only one at the club fair with unique equipment to get people interested.
Natasha Boychenko, president of the Fencing Club, walked around holding a sword. The club's equipment was on display for appeal and use, under close supervision of course.
"I've been personally fencing for nine years. and I've been state champion of California," said Boychenko, "So I really, really hope that we can, at least at the end of my three years left here, make fencing into the sport that we can compete with UCLA and the western fencing [schools]."
Many new clubs were at the Involvement Fair to gain more members. They depend on students to keep their funding  and to grow as organizations.
Walking around with a real steel fencing sword, naturally Boychenko was asked if she had used it.
"Today, I hit my partner at the flag pole a couple times in the head," said Boychenko. "Only when he's wearing his mask."
The new Internet radio station made its first public debut at the Involvement Fair as well. iCLU radio brought in some recording equipment and performed impromptu interviews as they attempted to spark interest in the new program. Vim Iglesia, a junior in the iCLU radio class, interviewed passerbys about the Involvement Fair. The experience was meant to simulate a live interview at the station, complete with recording microphones and a computer to establish voice levels for the guest speaker. Iglesia felt the fair was perfect for the clubs and organizations, and also the students.
"There's a little bit of everything for everyone here," said Iglesia.
Even older clubs had something at stake at the Involvement Fair. Many clubs attract new members at events like this.
"Today it was all about spreading the news that we still have our Ultimate Frisbee Club," said Will Kennedy, the club's co-president. "It died off two years ago, but now we're going steady, which is good."
The Ultimate Frisbee Club officially came back to CLU last year as it was once again approved as a club.
"We've actually had lots of people come out. This has probably been the best turnout we've had so far. A lot of people seem really excited about us now, which is kind of exciting," said Kennedy. His club received more than three pages of signatures from students that day.
Many clubs stressed that if students just attend the fair they'll be surprised at what they find.
"I know it's hard for freshmen or people who just got here to meet people and make friendships and with all those clubs, you make friends, you meet nice people," said Habib Alalwan, an international graduate student.
Being a part of clubs and organizations has made a big difference for students at CLU, affecting more than their social lives.
"My big advice is, even if you don't want to join hip hop, join a club, get involved. It is so much fun," said Lacy Williams, publicist for H2O club. "Get your money's worth out of CLU because it's expensive to go here. And you know what, make it worthwhile. These are the best four years of your life."
Joe Wood
Staff Writer
Published Sept. 26, 2012