Dogs of Cal Lutheran Unleash Their Love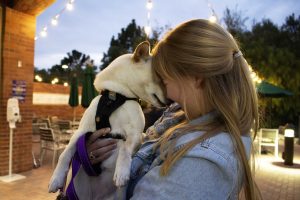 California Lutheran University students are used to running into their friends around the small campus. However, some students may recognize a different breed of companion: the dogs of residential staff and professors. 
Caitlin Hodges, senior coordinator for Residence Life and Student Conduct and owner of 3-year-old Golden Doodle Oakley, said there are currently nine staff members who live on campus in residence halls. Most of these staff members have pets, a privilege granted to them as they are no longer students.
"It's really nice that the students have a dog they can come and say 'hi' to. I think it's really nice for them because it feels more like a home to some of them, and less like a residence hall," Hodges said. "It's a fun way to get to know students."
Oakley isn't the only resident dog on campus. Nathan Fall, director of housing operations, lives in a house on Faculty Street and has two dogs that live with him along with his wife and two children.
Both of Fall's dogs, Monty and J.J., grew up on campus and have socialized with college students since day one.
"We knew these were good family dogs and we were right…this college campus has been a great dog park," Fall said.
Monty is an 8-year-old smooth-haired Hungarian Vizsla and J.J. is a year-and-a-half-old Wiredhaired Vizsla, Fall said.
According to Hodges, the staff doesn't bring their pets into the office, but their jobs require being on campus in case of an emergency as they are the ones who would respond.
Aside from the staff's animals and students' emotional support animals, other pets aren't allowed to live on campus.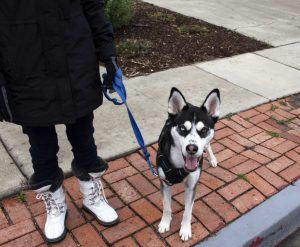 Hodges said pets aren't allowed for students because students may not take care of their pets properly, the animals might damage residence halls and problems with roommates may occur. Even so, some animals are regular visitors on campus.
Rick Hankins, a religion professor, has a weekly guest in his classroom. Dublin, a 10-month-old Shiba Inu, loves people and her daily Starbucks "puppuccinos."
"My class is very heavy in terms of the content, so having Dublin around kind of lightens it up a little bit, so the students can focus on her sometimes," Hankins said.
Hodges said having a dog on campus is nice because it's a commonality for her and students. She noticed once she brought her dog into the mix, it was a lot easier to build relationships with students.
Many students have "dogsat" for Fall and his family. He said it's a nice way for students to get away from roommates and school.
"It's fun because you can tell the students miss their dogs at home, and when you're walking, they're very eager to engage. It works both ways. [Dublin] really enjoys meeting new people and students love having her on campus. I know often times students are really stressed," Hankins said.
Fall said every staff member who has an animal has to get a contract, which includes getting vaccines and flea treatments.
Since the dogs are in residence halls, if any students complain about allergies or if one of the dogs becomes a disturbance, staff have to have a back up plan arranged.
So far, they have not had any issues, even with students that are not comfortable with dogs, given that the dogs stay in the staff members' homes the majority of the time.
"Difficult situations happen, like what we had in the fall semester, and no matter what type of day you have, you walk in and your pet's there," Fall said. "They can make you forget for just long enough, or they'll still equally give you the love and just be there for you. So there's a comfort about having an animal."
Rose Riehl
Reporter