First-year Magician Voted Royalty at Competing for the Crown 2019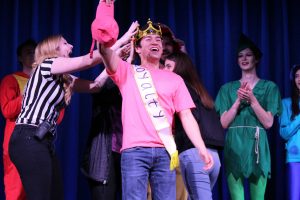 The Preus-Brandt Forum had a full crowd March 15 to see California Lutheran University's 2019 Competing for the Crown.
Nine competitors went head-to-head showcasing their talents, hoping to win the titles of Mr. Kingsman or Ms. Regal. After multiple dance numbers, magic tricks and musical performances, first-year Adam Souza took home the crown.
"I genuinely mean it when I was not expecting this at all…I am very, very shocked that I won," Souza said after the show.
Souza credits his sister Amanda, a senior at Cal Lutheran, for introducing him to theater and performing.
"She was definitely a big inspiration to do this," he said.
Souza performed a magic trick onstage for his talent portion. Souza's passion for magic began when he was young, starting out with just a deck of cards. He got the idea for the magic trick he performed at Competing for the Crown from his experience at Magic Castle, a magician's clubhouse in Los Angeles. He has been a junior member of the exclusive club since he was 13.
Junior David Hall placed second, while junior Lukas Swidler took home third place.
"I think just being out there in general and being able to be kind of an entertainer was pretty fun for me in the first place. I like to entertain, so to win second and win a little bit of approval is just an added bonus," Hall said.
At the beginning of the show, spectators came face-to-face with many recognizable Disney and Nickelodeon characters, hence the theme "Disney versus Nick." Contestants dressed as Peter Pan, Captain Hook, Tinker Bell, Steve and Blue from "Blue's Clues," Mulan, Li Shang and Mushu all came out on stage for individual and group dance numbers. Souza was dressed as Timmy Turner from "Fairly OddParents."
The show was hosted by Mermaid Man (senior Ruth Smitherman) and Barnacle Boy (sophomore Anthony Wermers) from "SpongeBob SquarePants."  
The nine competitors were Souza, Hall, Swidler, Kylie Johnson, Jordan Erickson, Claire Meuter, Austin Boelman, Austin Truong and Peter Lee. All had a chance to share their talent and humor with the audience.
Junior Programs Board Representative Jacky Quintero began promoting and planning the show in October.
Participants can be nominated for Competing for the Crown, formerly known as Mr. Kingsman, by their peers. 
Last year, it was decided that women should be allowed to participate as well as male students. Last night's show only had two female contestants.
"The whole reason we changed it was to be more inclusive," Quintero said.
Quintero's goal is to have 10 contestants next year. She said she hopes more women will sign up and make up half of the competitors.
"I definitely tried to reach out to a lot more girls this year, but it just happened that guys were more willing to participate than the girls," Quintero said.
The show had two voting rounds. Souza, Hall, Swidler, Boelman and Lee made it through to the question portion of the show, where contestants were asked questions such as what they would do if they won.
The Competing for the Crown participants practiced together for two hours every week.
Souza, who is involved in multiple clubs, student government and has his own radio show, acknowledged the level of commitment to prepare for the show.
"It was a pretty rigorous rehearsal process," Souza said.
Quintero said all the hard work they did behind the scenes was not known to many, but it was still a highlight for her after seeing it all finally come together.
"Once they were onstage, they were awesome," Quintero said. "Even some parts that we didn't exactly rehearse, they were just great about like making it the best at that moment."
Sophie Zepf
Reporter