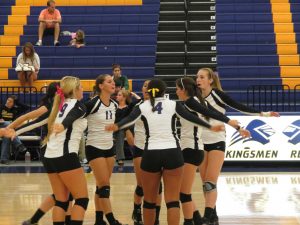 On Tuesday, Sept. 18, in the Gilbert Sports Arena CLU Volleyball fans cheered on the Regals as they took on the La Verne Leopards.
The Regals got off to a rough start, losing the first two matches. They proceeded to dominate the last three games and won the match. The winning scores were 27-29,20-25,25-15,25-19 and 15-9.
"I think we came into the game a little too high strung and we dug ourselves a large hole dropping the first two games," said sophomore outside hitter Kylie McLogan. "In the third game we finally settled into a rhythm and started worrying more about what we could control on our side of the net."
"Emotionally I think we may have expected them to just roll over and for whatever reason it took us a little longer than usual to get fired up," said senior middle blocker Shannon Pearson.
After two down sets, the Regals fired up. During the much-needed break off the court, the girls rallied together, dancing on the sidelines cheering and came out on the court ready to play.
This was the team that California Lutheran University fans, and coach Kellee Roesel had been waiting for all night.
An unexpected change leading into the third set was seeing outside hitter, senior Rachel Smith with the libero jersey on.
"Playing libero is definitely not what I'm used to, but if that's what works for the team that's all that matters," said Smith. Smith reigned in the back row and tallied 16 digs.
"When I first went in it felt pretty tense, but when we started the third set once we got the first few points and got in our groove it felt totally relaxed," said freshman outside hitter, Allie Eason. "We were just loving it and playing our game and having fun."
Eason did her part by tallying nine kills for the Regals.
"It felt really good to come out with the win especially since we were down the first two sets," said Eason. "So just knowing that we could come back and find a way to come together as a team to win, even though it wasn't our best day, it was an amazing feeling."
The fourth set was even better, with McLogan making her presence known by scoring nine kills in that set alone.
"Before the fourth set we were all so excited and energetic and totally confident again, and everyone just dancing around, our typical team. So that was so fun," said Eason.
Pearson also dominated the front row with 28 total attacks and only one error.
"Looking at it statistically, we made a lot more unforced errors in the first two games than the next three with the fifth game being our best," said Pearson.
The Regals then won the fifth set 15-9.
Brina Clark
Staff Writer
Publish Sept. 26, 2012