Different shades of green hats, sunglasses, balloons, T-shirts and more lined the streets of Ventura to welcome dozens of the Irish-themed floats in the 31st annual Ventura County St. Patrick's Day Parade.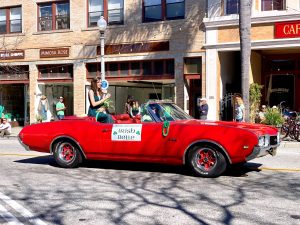 The parade, which was one day before the actual holiday on March 16, drew more than 1,500 spectators and 79 parade entrants, parade officials said. The floats traveled along a 10-block route toward Ann Street in Ventura, parade officials said. The Arnold Hubbard Memorial "Best-in-Parade" trophy went to O'Leary's Tavern located on Telephone Road.
Jim Monahan and Nan Drake were co-founders of the parade.
"I think the parade is really fun because we have people coming from all over the place like Ireland and Scotland. We got world class Irish dancers and grand marshals of the parade to make the event more entertaining," Monahan said.
Monahan said the parade grand marshals are selected by a grand committee to be judges and leaders of the parade. Monahan said there are about 20 people on the committee and that he is the current committee chairman. Monahan is a former Ventura mayor and councilman who was appointed grand marshal in 2008.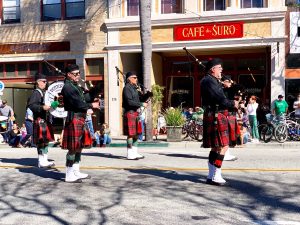 "After the parade is held, families hold separate parties in places such as the pub to continue the celebration of St. Patrick's Day," Monahan said.
Drake said she has been a co-founder as long as Monahan and became a committee member 15 years ago. Drake said the parade is free to everyone and is organized by an all-volunteer committee. Drake added that Monahan's favorite part of the parade is the giant green pig balloon named "Bacon."
The parade was presented by the Elk Club Lodge this year. Drake said they received a lot of support from the Elk Club Lodge and said they are grateful for their unwavering support for the parade's success.
"It's a community event that allows people in all spectrums to come out and have fun," Drake said. "You certainly don't have to be Irish in order to celebrate the event because it's a fun parade that celebrates a little bit of Irish culture."
James Alfaro
Reporter