Cortez Espinoza: McNair Scholar and Future Doctor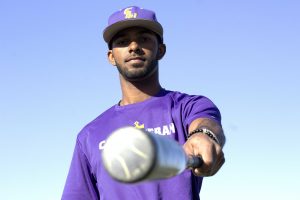 Junior Cortez Espinoza is a busy guy. In between exercise science classes and baseball practices, he also conducts research on campus, is a resident assistant and works as a physical therapy aide at Westlake Physical Therapy.
"I would say my biggest challenge I've had to face is just the fact of balancing everything…doing all of that at the same time has been something that is very hard," Espinoza said.
The San Francisco native was recruited to play football for California Lutheran University and played for one season. He then decided his passion for baseball was stronger and ended up making the team as a walk-on.
Espinoza said the bond he had with the baseball team made him feel accepted right away. It was an easy transition from the football team to the baseball team, he said. 
"He is one of the best individuals that I have had the privilege to coach…Cortez is what we call a silent leader," Cal Lutheran baseball Head Coach Marty Slimak said in an email interview.
Espinoza said he found his love for baseball at the age of 3, when he played tee-ball in his hometown of San Francisco.
"It has been history since then. It has been my favorite sport, my first sport," Espinoza said.
Espinoza began his baseball career as a pitcher, moved to playing infield in high school and now plays outfield for the Kingsmen.
His first year, Espinoza traveled to Wisconsin for the national championship and brought home the championship title in 2017 with his other teammates. Espinoza said this was his biggest accomplishment in his baseball career so far.
"For me to experience that as a freshman was very humbling and it taught me so much, and it just brought love for not only the school, but the baseball program," Espinoza said.
Espinoza finished last season with the highest on-base percentage on the team at .529. Overall, he held a .492 batting average with 14 runs, 16 RBIs and 31 hits.
This season, the team has an overall record of 18-9 and a conference record of 9-6.
"We are top-25 in the nation. The fact we can come together as a team and string everything together to come out with those wins has been really big for us," Espinoza said.
Kingsmen catcher Kaden White, who lived with Espinoza last semester and has been his friend and teammate for three years, has gotten to know him well.
"Cortez's best qualities are his work ethic, his love for his friends and family and his uncommonly positive attitude," White said. "As great of an athlete as he is, Cortez is an even more impressive person."
Espinoza said he is proud of what he has overcome and how he is "breaking barriers."
"Being here in college, I mean statistically wise, based on my background, I'm not supposed to be here…being a black male in the United States, the stigma of not being educated and being just an athlete, but I am a student athlete disproves what the stereotype is," Espinoza said.
As an exercise science major, Espinoza is involved in the Exercise Science Club on campus, works at a physical therapy clinic and does research through the Ronald E. McNair program.
The Ronald E. McNair program was inspired by the first African-American astronaut to go to space, Ronald McNair.
"This program is the stepping stone to get into grad school and the prestigious recognition for this program throughout the nation motivated me," Espinoza said.
The program is designed to provide resources and guidance for low-income, underrepresented, first-generation college students working toward a doctoral degree.
"Something about McNair is he is a holistic guy, smart and very charismatic and has had a big impact on people…I think that's what everyone's purpose is; to find their purpose and how they can serve that to impact as many people as they can," Espinoza said.
Last summer Espinoza researched the effects that ankle tape and ankle braces have on lateral cutting movements. He worked closely with Cal Lutheran athletes, putting them through tests in the biomechanics lab on campus.
Espinoza said the McNair program has inspired Espinoza to want to continue his education.
"The connections I've made and the research experience has inspired me to pursue that as a career one day and get my PhD," Espinoza said.
The Ronald E. McNair program is something that Espinoza wants to continue being involved in after graduation.
"A goal of mine is to be an ambassador for the program and try to get kids to go through the same process I did so they can get the experience and push they need to go to grad school," Espinoza said.
Once Espinoza graduates, he plans to obtain his doctorate of physical therapy. From there, he said he wants to become a team doctor for a sports team.
Espinoza plans to spend this summer in Australia to study exercise science at Southern Cross University in Lismore.
"It has always been a desire for me since I was a young kid to experience the Australian culture, so the ability to go to school, take classes and not have any other worries is just like a once in a lifetime chance," Espinoza said.
With over half the season left, Espinoza said his goal in baseball is to build on last year's success.
"The way I ended last season, I want to translate into this season so I can help my team," Espinoza said.
McKenna King
Reporter