Scandinavian Festival Celebrates 44 Years, Draws Thousands To Celebrate
With an ABBA tribute band, Vikings and plenty of Nordic food, the 44th annual Scandinavian Festival drew in large crowds to Kingsmen Park at California Lutheran University April 6 and 7.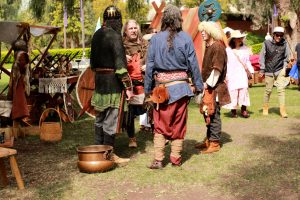 Senior Kristin Wannemo, who was born and raised in Sweden, said the festival was very authentic in its representation of her culture during the holidays and days of celebration, such as Midsummer.
Wannemo said she was surprised that the music, dancing, costumes, arts and souvenirs were accurate.
"It actually felt like I was in Sweden for a brief second, which never happens. I was pleasantly surprised because I honestly didn't think it would be as authentic as it was," Wannemo said. "It made me feel quite proud to be Swedish, seeing what amazing things come from our country."
This year, guests could participate in a Kubb tournament put on by the LA Kubb club, get free gear from LA Galaxy, win an eight-day Viking cruise for two and listen to performers-new and old. Kubb is a lawn game that involves knocking over wooden blocks with batons.
Among the artists who performed at the festival were Grim Bernhoft, a folk-Americana singer-songwriter, Ann-Marita Garsed, a country-folk singer-songwriter who performs in Norwegian and Swedish and ABBA tribute band ABBAFAB.
Garsed defines her music as Arctic-Americana or folk music from three countries: the United States, Norway and Sweden.
This is her third year performing at the Scandinavian Festival. She said she started singing around the age of 14.
"I was born and raised in Norway, so I've got the whole Scandinavian thing down. For this particular festival, I tend to do a mix of Scandinavian folk songs and some of my own songs written about true stories of Scandinavian immigrants," Garsed said.
As a self-declared history nerd, she said she loves reading true stories about people's struggles and how they overcame them, and that has influenced what she writes songs about. One of her favorite parts of the festival is the authenticity and support from the community.
"One time I brought my sister, and she looked at a photograph that somebody had in their booth and said, 'I know that place! That's where we used to drive with dad as kids.' So somebody had painted that picture, and they had family from that very area," Garsed said.
Festival Marketing and Publicity Coordinator Michael DeTerra said he was inspired to get involved with the Scandinavian Festival because before he started working at Cal Lutheran, he was brought to campus to see the grounds.
"It happened to be Scandinavian Festival weekend, and one of my favorite memories from that was going to the food demonstrations tent where you can learn to make lefse, aebleskivers, krumkake and other different types of Scandinavian foods," DeTerra said. "That memory just stuck with me, and of course I went home and bought an aebleskiver pan." 
Kayomi Kayoshi
Reporter