Local pavement artists from Thousand Oaks came together to participate in California Lutheran University's first ever 'Festival of Fools' Chalk Festival April 1 for students and faculty members to admire sidewalk art after spring break.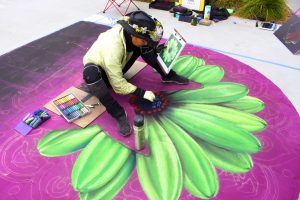 The theme of the festival was "imagination" and was a free public event hosted by Michael Pearce, a professor of art at Cal Lutheran who is in charge of the Artists and Speakers Committee.
Pearce said pavement art is a form of art that he believes will appeal to a broad and diverse community because it's a very temporary form of making art compared to other pieces that are permanent like murals.
"[Chalk is] a very eloquent and public way of getting art out into the community for people to enjoy it," Pearce said. "Since it's temporary art, it means that it's not attached to issues of money and it can't be bought because it's impossible. There's something rather liberating about that.
Naomi Duben, one of the headlining artists, chalked out her own interpretation of imagination on the Spine. Duben was drawing a portrait of a villain named Lalo.
Duben said she has been participating in chalk festivals for more than 15 years. Duben said it was hard to create art with chalk at first and that it got easier over time because of practice and challenging herself to do better.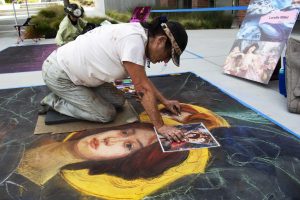 "3-D art is trending now, and people are beginning to notice it more on Facebook. People could be standing on the ground and it looks like they're riding a dragon. The angle of the pavement makes it skewed, so when you draw the picture long and you stand in front of it, the whole perspective changes," Duben said.
Duben said she tends to get paid on and off depending on the popularity of her art, which is based on how many events she attends. Duben said sidewalk art takes hours to make because artists are usually given a time limit to finish creating their art pieces.
"It takes some strategy to create a square in that time and if you don't, most people will fill the background with black or don't put in as much detail into it," Duben said.
Ruth Villa, another one of the headlining artists, heard about Cal Lutheran's Chalk Festival a few months ago from the organizer and decided to seize the opportunity to demonstrate her art piece.
Villa said she has been creating chalk art for about 10 years and is about to start her own chalk art festival in May.
"For my piece, I chose a child with a cardboard box imagining the universe since we're creating our pieces based on the theme of imagination," Villa said.
Villa said she's an oil painter, but finds using chalk easier to work with  as it's only temporary compared to other mediums.
Villa said there are different themes for different events, such as a Renaissance theme, and said she will be doing a hero theme for her own chalk festival.
"Besides the joy of coloring, the best part for me is interacting with people and the one-on-one interaction with them, compared to painting alone in an art studio," Villa said.
James Alfaro
Reporter