Nike outfits Cal Lutheran athletics
September 26, 2012|18 Views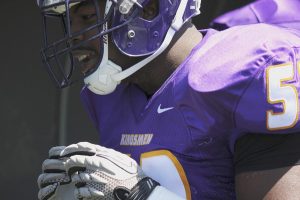 It's hard to dispute that in all of collegiate sports, the University of Oregon football program has the most exciting and innovative uniforms. Oregon can thank Nike for that, which has had a contract with Oregon since 1997 to equip the football program.  Nike also outbid Reebok to be the official maker and provider of on-field apparel for the NFL  starting this 2012-13 season.
Who's the next name to be sponsored by Nike? CLU.
Beginning this year, every California Lutheran University collegiate sports team will be outfitted by the Nike brand. CLU is the only Division III program to be outiftted by Nike. CLU's athletic director, Dan Kuntz, considered a lot of different brands, but Nike just felt right, he said.
"There were several brands we looked at. We needed to find something that, on the whole, could provide for a cross section of sports. Olympic-type sports as well as mainstream sports," said Kuntz.  "There are only certain companies with that breadth of product that could do that."
According to Kuntz the deal lasts three years with an option to extend. One of Kuntz's hopes with the new sponsorship is to boost an already successful aspect of CLU sports. Recruiting.
"When students are looking at different schools, it's a natural thing to invest a lot in their sport. They feel confident and comfortable when they look right and feel right in the type of equipment that they're wearing," said Kuntz. "Nike is a brand that is worn by a lot of people in a lot of different sports and seen a lot. So I think it's attractive that our athletics have those connections and I think that will help in the recruiting process," said Kuntz. "When they look at Cal Lutheran and can familiarize themselves with the equipment, it can put us above the competition."
In terms of the current athletes at CLU, they couldn't be more thrilled with the new deal.
"When I found out I was pretty excited and curious to see what kind of new gear we would get to have for the year," said Kristina Hulse, junior forward for the Regals soccer team.
All-American wide receiver Eric Rogers can feel a difference from last years' uniforms.
"Yes, there is a difference. The main thing that stood out to all our players was how they fit our armpit area. It's more of an undercut so our arms move a little more freely in my opinion," said Rogers.
Both athletes agreed that when you look good, you feel good, and as a result you play well. However, this sponsorship didn't just happen over night.
"It was a collaborative effort between the CLU marketing department and the CLU athletic department with endorsement from the administration to look at creating a partnership between a well known brand and Sports Chalet and fully developing our brand in line with the university brand," said Kuntz.
Kuntz wants all the sports programs to look consistent and have embellishments and logos on them that are consistent with the branding plan of the university. Kuntz hopes that this sameness and familiarization throughout CLU will only unify the athletic program.
Craig Jacobson
Staff Writer
Published Sept. 26, 2012