Permanent Borderline Memorial Coming Soon, City Says
Since the mass shooting at Borderline Bar & Grill on Nov. 7, citizens and officials of Thousand Oaks have been seeking ways to demonstrate support for survivors, the families of the 12 who lost their lives and the surrounding community that has been impacted by the tragedy.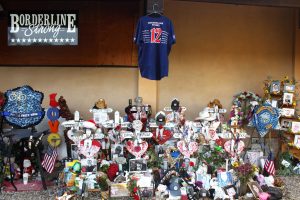 An existing memorial outside the bar is filled with homemade gestures of love and grief, including painted rocks and crosses representing each of the individuals who were killed that night.
Earlier this year, a committee was formed at Thousand Oaks City Hall to begin discussing the logistics of building a permanent memorial to the victims. 
Benjamin Ginsburg, a survivor of the shooting, said he would feel uncomfortable returning to the actual location of Borderline. So far, he says he's been reluctant to visit the existing memorial because he doesn't think it would be healing for him to return to what happened five months ago.
Ginsburg said he wasn't sure if he would feel the same way about a memorial placed in a different location. However, he said he thought it would be helpful for people in the community to have a permanent place where they can honor what was lost that day.
"It's hard for me to imagine going back to that site where 12 people, including some of my friends, were murdered and to celebrate in that location. You know, to dance and to revel and enjoy life," Ginsburg said. "And there's a part of me that knows they would not have wanted perpetual mourning, and I don't want perpetual mourning for myself, but to go back to that site and to be carefree, to me feels like it will be impossible." 
Included in the memorial committee are community leaders such as police department officials and Cal Lutheran's President Chris Kimball. Thousand Oaks Mayor Rob McCoy is also directly involved with the planning.
Melissa Hurtado, manager of revenue operations for Thousand Oaks, said the committee has privately met twice in the new year to discuss details including concept, budget and the prospective location for the memorial.
Hurtado said the city recognizes there will be other memorials created privately throughout the community, but wanted to ensure some sort of permanent monument is built as a community-based memorial.
"There is nothing that has been planned or set in stone. It's just more about the approach and how we go about getting this together, because we understand that it's a very sensitive issue in the community and we want to make sure that whatever gets done is done right," Hurtado said.
Ongoing meetings to discuss the development of the memorial will be held at City Hall. Hurtado said when a more concrete plan is developed, meetings regarding development will become open to the public.
"In any incident of mass trauma like this, the priority should be on the survivors and on the victims' families," Ginsburg said. "When a survivor or one of the victims' families says, 'This is what would be helpful for me,' that's where the conversation should be focused."
In the immediate aftermath of the shooting, Ginsburg said news coverage seemed to move on very quickly to other issues, such as the local wildfires that began the next day. He said the social conversation never came back to Borderline to ask what the survivors needed, which meant some attempts at charity did not end up being helpful for those who were struggling, while others were more successful in addressing survivors' needs.
Almost immediately after the incident, the Ventura County Community Foundation (VCCF) established an emergency fund for survivors and the families of victims of the shooting through a donation link on its website.
Prior to Nov. 8, there was no way for concerned citizens to donate toward an emergency relief fund for the area that was sanctioned by the city. VCCF is a nonprofit dedicated to community building.
Los Angeles Daily News reported that $3.6 million was donated to VCCF's emergency fund in the hours after the tragedy. In mid-March, the donations were divided and distributed to the victims' families and those who survived the Borderline shooting.
Katherine Lippert
Reporter