Mecenas: New addition to the english department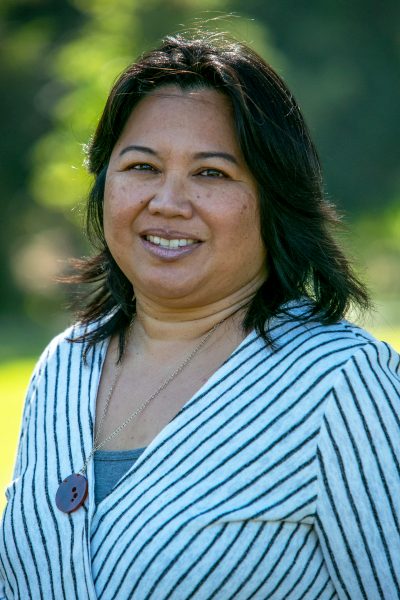 Jolivette Mecenas came to California Lutheran University after a year as visiting professor and interim director of the First-Year Writing Program in the Department of English at California State University, Los Angeles. Mecenas additionally has 10 years of experience at the University of La Verne as an associate professor and director of the writing program.
Mecenas is now an associate professor in the English Department and composition coordinator at Cal Lutheran.
"I was really interested in the Hispanic initiatives that [the department chair] described to me. He described that they were looking for someone to rethink how the English department fits into that," Mecenas said.
 Mecenas hasn't been at Cal Lutheran for a full semester yet, but she is already creating bonds with her students. 
"She asks us how we're doing and if we need help with anything," said first-year student, Natalie Luna.
Luna said Mecenas' teaching style is different from other teachers; she does a lot of group work, group discussions and student-teacher interaction in class.
"She does enjoy being here because she interacts with us and doesn't just give us work and tell us to go do it," Luna said.
Mecenas said a lot of times students have a negative feeling toward writing from previous experiences and her goal is to "help them think about writing as their way of thinking through a problem."
Terese Guinsata Monberg, an associate professor at Michigan State University and friend of Mecenas, said Mecenas is very committed to helping and supporting her students inside and outside of the classroom.
The two have known each other for about 10 years now, and met at the Conference on College Composition and Communication.
"She has a talent for pulling people together," Monberg said.
Mecenas graduated from the University of California, Santa Cruz. Mecenas said at first she was a journalism major, but then she changed her major because she wanted to focus on photo journalism. This led her to be an art major with a minor in literature. She is a first-generation college undergraduate and graduate student.
Before going back to school for her Bachelor's degree in English at San Francisco State University, Mecenas worked for several magazines including Buzz Magazine, Mother Jones and Out Magazine.
"I was one of those students who didn't know exactly what I wanted to do—I knew I liked to write and tell stories in the visual aspect and so, it was like an exploration," Mecenas said.
Once Mecenas obtained her Bachelor's degree, she went to the University of Hawaii at Manoa to receive her Ph.D. in English. Mecenas said she never saw herself becoming an English professor, since Santa Cruz did not have an English department when she attended. 
Mecenas said she taught at the University of Hawaii at Manoa and then at La Verne. Mecenas said teaching at a private school was a big change for her. 
"The different kind of education that a private school offers is very hands on and you have the luxury to get to know your students on a personal level, meaning what their goals are and being there for them as a resource more-so than you can at a public school," Mecenas said. 
Monberg said Mecenas is an advocate for students and she has built university structures to bring students into the public sphere. 
"I really encourage students to not be afraid," Mecenas said.