Students put their backs into service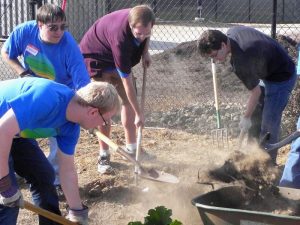 More than 200 CLU students volunteered their time at Service Day.
They gave back to their campus and to their community in 11 different ways.
The students showed up at the Pederson Ranch House lawn on Saturday, Sept. 29, to congregate before splitting up to participate in one of 11 different service projects on campus and in the community.
Students came to sign in for the projects that they registered for as early as 7 a.m.
After checking in, each student received a free Service Day t-shirt, as well as complimentary bagels and coffee.
The volunteers then split up to go to the projects of their choosing.
Some students went to the beach beautification project, others to the Botanical Gardens.
Some students stayed on campus to perform tasks such as planting bushes near Pederson Hall or laying down a pathway behind Samuelson Chapel for the Meditation Garden.
According to Kelli Campa, an intern with the Community Service Center and one of the organizers of the event, Service Day is a collaboration with United Way, and quite a few of the day's service projects were in partnership with them.
Senior Emily Masad went to the campus beautification event.
Masad said that she came to Service Day not only to help fulfill the service requirement for her club, but also to meet new people and to have something fun to do on a Saturday.
All California Lutheran University student organizations are required to perform a service project during the semester. Fifty percent of their roster has to participate.
If a club does not do a service project, they will not receive funding from ASCLUG.
"I think that [Service Day] is a great way to build the CLU community along with just helping out the grounds," said Masad.
According to Masad, the project that she and approximately 30 other CLU students completed in an hour would have taken the CLU grounds staff a full day of work to complete.
Masad said that she thinks it's great that she and the other students were able to help out the grounds people not only as a thank you for their hard work, but to also give them more time to work on other projects.
Sophomore Carmen Garcia volunteered at the CLU meditation garden event.
As she shoveled dirt into a wheelbarrow, she said she thinks that service is a "fulfilling experience."
"Sometimes it sounds like a pain in the butt because it is hard labor, but it is totally worth it because you are making a difference and every little bit counts," said Garcia.
Junior Amanda Oliver also chose the meditation garden for Service Day.
Oliver chose this event "because it was a smaller project," so she knew that everyone would have something to do.
Oliver, like many other students, came to Service Day to represent a club.
She said that she thinks it is a good thing that clubs are required to do a service project.
"It's giving back to the community that is giving us the funds to do what we want to do," said Oliver.
Oliver said she likes to do community service, especially in settings like Service Day where she can be surrounded by friends.
Kaitlyn Guilbeaux
Staff Writer
Published On Oct. 3, 2012