Regals lose to Chapman, beat Redlands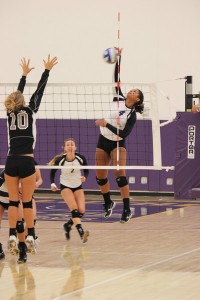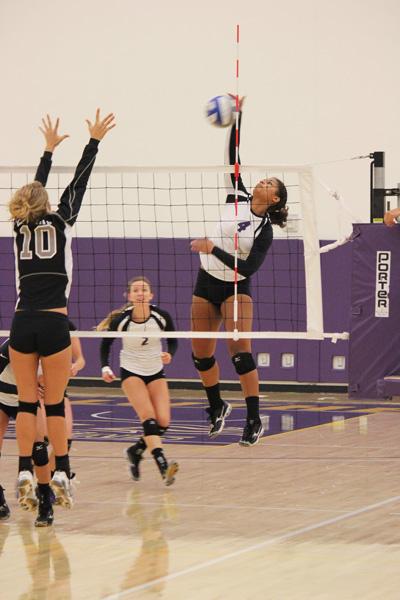 On Sept. 29, the CLU Regals fell to the CU Panthers in a four game match off.
Saturday afternoon featured Chapman's first visit to California Lutheran University as a SCIAC member, and it now looks as if they may be the Regals' stiffest competition in the quest for another conference championship.
The two teams, with one loss, are now tied with one loss for first place.
The Panthers had a tough offense with their two middle blockers capturing a combined 23 kills.
"I think we played great defense against Chapman's big outside hitters and stopped them from getting their kills, but we really struggled against stopping their middles," said sophomore defense specialist Kennedy Peters. "Those girls in the middle were smart and knew when to tip and when to swing, and it worked for them."
Peters had nine digs to help the Regals against the Panthers.
Senior Rachel Smith played a vital role in the back row, playing an unnatural role as the Regals' Libero, tallying 22 digs.
Sophomore setter Jena Chavez did her best to turn those digs into perfect sets for the offense. She has had to play a vital role for the Regals, stepping up in place of injured All-American Jackie Russell, who is recovering from a hand injury suffered earlier this season.
"It hasn't been easy to step in for such an amazing player and leader like Jackie, but my teammates and the coaching staff have been very supportive and have been such a big help," said Chavez.
Chavez finished the game with a total of 41 assists.
Sophomore outside hitter Kylie McLogan was the top offensive scorer for the Regals with 21 kills and only five errors.
"It's a nice accomplishment, but it is all due to the great passing coming from my teammates and our setter Jena Chavez working really hard and setting some great balls," said McLogan.
Junior middle blocker Lauren Rohach was active at the net with seven kills of her own and added to the team's total of six blocks.
"To beat Chapman the next time we play them I think we just need to worry about what happens on our side of the net more and play as hard and competitive as we play in practice everyday," said Rohach.
McLogan agreed with Rohach that the girls needed to relax and focus on their own playing skills and not what the other team was doing.
"I think on offense we need to not be so worried about making mistakes," said McLogan. "I think we get in our own heads a little bit and put too much pressure on ourselves. I think if we played more relaxed, the offense would take care of itself."
The Regals anxiously await their next meeting with the Panthers and will be set to bring their "A-game."
The set scores were: 25-19, 21-25, 25-22 and 25-17.
The Regals had a quick turnaround.
Only a few hours later they took on Redlands and wasted no time getting back in the win column as they won in straight sets, 25-14, 25-15 and 25-15.
Brina Clark
Staff Writer
Published On Oct. 3, 2012