It's four for No. 4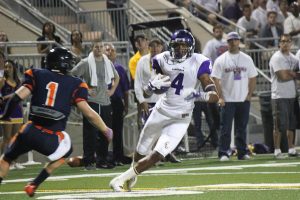 Wide receiver Eric Rogers gave his mother a birthday gift she won't forget Saturday night, becoming CLU's all-time touchdown reception king in a Kingsmen 38-10 victory over the visiting Pomona-Pitzer Sagehens.
Rogers was sensational in breaking the 38-year-old record of 25 touchdown receptions held by Skip Rooney (1962-65). He caught nine balls for 135 yards, three for touchdowns and took a reverse 38 yards for an electrifying rushing touchdown to start the evening's scoring off.
The fans and team were wearing the Kingsmen visiting white uniform for the team's first "White Out" game. The No. 8 Kingsmen moved to 2-1 (1-0 SCIAC) and extended their SCIAC win streak to 21 games and their streak over the Sagehens (0-3, 0-1)  to eight games under head coach Ben McEnroe.
"Pomona is an 0-2 team that, despite missing their best player, has played two competitive games. [Luke] Sweeney is a tough, physical runner, especially for his size. Needless to say, he will have our full attention," said McEnroe in an interview pre-game.
The Kingsmen came through for their coach holding the preseason All-American Sweeney to only 80 yards on 22 carries and kept him out of the end zone.
The Kingsmen looked strong. None looked stronger than the star of the night Rogers.
"Because it's my mom's birthday today, that was a little bit of extra inspiration for me. It was a good feeling to play in front of this white-out crowd and make that milestone happen," said Rogers.
Quarterback Kevin Ramay had another good night, throwing 282 yards, scoring four touchdowns, one rushing, while tossing two interceptions that didn't affect the outcome of the game. With the departure of standout quarterback Jake Laudenslayer after last year, some wondered about the transition of the most important position in football.
"I think Kevin is playing well. Most of his picks have been things that are out of his control, [a] bad adjustment on a route and a couple of batted balls. We're real excited about what Kevin is doing and we think he can win a lot of football games," said McEnroe.
Vincent Minor who tallied 159 all-purpose yards returning the ball, including a 73 yard return that set up the Kingsmen in prime position.
Leading the way rushing the ball for California Lutheran University was Ryan Zirbel who carried the ball 17 times for 80 yards. Daniel Azhocar rushed eight times for 38 yards, future quarterback Billy Livingston added a 37-yard run, and Romello Goodman added 36 yards on 10 carries on a night that saw the Kingsmen rack up 561 yards of total offense.
The defense was stubborn all evening holding the Sagehens to a sparse 71 yards in the first half. Leading the way defensively was Dontaie Ferguson with nine tackles, including two for loss. Derrick Romo added eight tackles (four solo) on a night where most of the defensive starters saw limited action.
The Kingsmen head into Redlands next Saturday at 7 p.m. to face the Bulldogs (1-2, 1-0) who are coming off of a lopsided win of their own.
"We did some work on Redlands during the bye week. This was a good win, and now we'll move on and be ready for next week," said McEnroe.
Will Reeve
Staff Writer
Published On Oct. 3, 2012