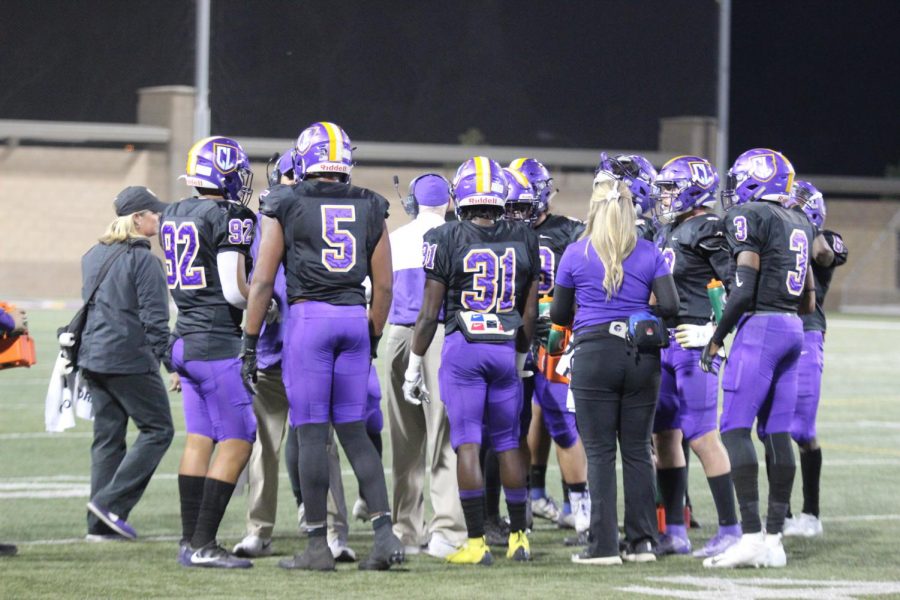 Antonio Valle
After finishing his exceptional career at California Lutheran University, defensive back Obasi Dees decided to shoot his shot and enter the pool for the NFL Draft. 
"Obasi is never outworked.  He is very consistent and reliable, he always has been. The guy is a tremendous example to young players," Kingsmen football Head Coach Ben McEnroe said.  "Even during the early stages of the COVID-19 outbreak, he was finding ways to improve his speed and strength."
Dees got the opportunity to play in the Hula Bowl on the island of Oahu, HI in January, where players are able to meet and play in front of NFL scouts and team personnel.
Dees is a 5'10 defensive back, who played in 10 games this past season as cornerback. He led the Kingsmen with 4 interceptions, which was the sixth-most in the Southern California Intercollegiate Athletic Conference. Dees also ended the season with a total of 30 tackles. 
Lucas Quinn, the Kingsmen Football Strength and Conditioning coach, got to work with Dees during his junior and senior years. 
"It would be an understatement to say that he is simply a hard worker. Everything Obasi has earned on the field, he earned it because he worked for it. One of the things I love about Obasi is that he has a relentless but humble attitude about what he does. He doesn't ask for favors, he puts his head down and he works," Quinn said. 
Aire Justin, who has trained Obasi Dees through the NFL draft process said it was great to work with him. 
"Working with Obasi is great. He's a great young man with so much passion for the game. All he wants to do is learn so he's very coachable," Justin said. "His work ethic is A1. He's definitely self motivated. I've never seen him take a rep off, not once in the 2 years I've worked with him."
Although Dees played cornerback at Cal Lutheran, McEnroe said he feels that he can be a versatile player if needed. 
"My best guess is that he will have to break-in to the NFL as a Nickel Corner and Special Teams player. He'll get bigger and stronger as he grows older, and will evolve into an every down Cornerback," McEnroe said. 
This is a new journey for Dees, as he transitions from collegiate football to professional football. 
"Like we always talk about, he knows and trusts that God is in control of the things Obasi has no control over," Quinn said. "We trust in that and work on what we can control, which is his attitude, effort, and intensity. Obasi would bring what he always brings–a tenacious attitude to get better and to compete."
McEnroe, Aire and Quinn are all proud of Dees and this new experience for him. 
"It is nearly impossible to put into words how proud of Obasi I am.  He came to us as a skinny, immature kid and leaves as possibly the best Cornerback to EVER play at Cal Lutheran," McEnroe said. "I am most proud of the man that Obasi has become. He is strong in his faith, he loves his family, and is a great teammate and friend. That's what this experience is and should be all about."