All-Region Player of the Year is Regals Soccer's newest addition
The 2019-2020 All-Region Player of the Year for the 5A Desert West Region in Arizona, Ali James, is one of California Lutheran University Regals Soccer's newest recruits. 

"Not only is she a really good soccer player, she's a tremendous person, she treats people well, she treats her teammates well, she's a leader," Regals Soccer Head Coach Frank Marino said. "A lot of characteristics you don't get to find out in [the] recruitment process but we were able to kind of decipher through just meeting her."
James played striker/forward on the Verrado High School varsity soccer team all four years and was team captain for both her junior and senior year, Verrado High School women's soccer Head Coach Kristin James said.
Ali James contributed the most goals on her high school's team record and was recognized for her flexibility across the field.
"Although forward was her main position, she was flexible and contributed to the midfield from time-to-time as an outside/center mid," Kristin James said.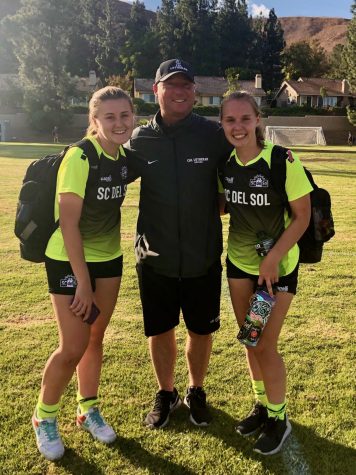 Kristin James said Ali James was constantly seen as a threat to other teams because of her talent and aggression on the field.
Marino first saw Ali James play in Phoenix, Arizona in February 2017.
Committing to the 'Lu
In a Zoom interview, Ali James said she committed to Cal Lutheran to both continue her soccer career for the Regals and pursue a double major in Psychology and Criminology.
Ali James said she's ready to start making her own decisions and have a "new family."
"I think I'll have a good experience [at Cal Lutheran] and I think all of [the Regals Soccer team] and the coaches will help with that," Ali James said.
Ali James said she had an "easy transition" from high school to college because COVID-19 let her ease "into the swing of things." She said it has also allowed her to move toward a "higher level of play and just like, more competitive which I'm really excited for."
Ali James said she already has had the chance to get to know her team and coaches, especially Marino.
Ali James took the initiative to get in touch with a Regals teammate before coming to Cal Lutheran,  beginning the recruiting process before it had officially started, Marino said.
"She's a great example of the kind of, not only player, but person that we're looking for in our program … we don't just want good players, we also want good people and I think she fits into that category," Marino said.
Marino said he expects that Ali James will be a good contributor to the team, using her best qualities to improve the program.
Growing with the sport
Kristin James said in an email interview that Ali James was always taking care of her teammates on and off the field in any way they needed–this earned her the nickname "team mom."
"She always had a smile on her face and a positive attitude! As a coach, you never had to worry if Ali would show up ready-to-go at practice or a game. She is reliable, hard-working, and driven — all great qualities!" Kristin James said.
Ali James began playing soccer at a young age and grew into it over the years, thanks to her family's influence and support.
"I started playing when I was about three or four," Ali James said. "My whole family, majority of the people in my family, play soccer as well, so it was kind of like, I was thrown into it because of my parents playing it as well, and I just kind of fell in love with it."
Ali James said her childhood, creating strong friendships with teammates and learning to balance the sport with all parts of her life made her fall in love with the game.
Ali James said she is grateful for all the lessons and experiences she's had so far to prepare her for her college career.
"I can't wait to hear of all the great things Ali accomplishes at Cal Lutheran! She will be a great addition to the soccer team and academic community," Kristin James said.