Some classes resume in-person with new tech for remote learners
While most students at California Lutheran University are attending classes remotely, some have been able to resume in-person learning in outdoor classrooms.
In an Oct. 15 email to the Cal Lutheran community, President Lori Varlotta wrote "12 faculty members so far have decided to switch their remaining fall classes [to meet in person]" given Ventura County's move to the red tier, allowing for indoor meetings at 25% capacity.
"To date, traditional undergraduate and graduate faculty members are offering 28 in-person classes indoors, and an additional seven classes are offered utilizing our outdoor classrooms," Varlotta wrote.
Claire Justman, Cal Lutheran senior, said she enjoys meeting in person for her class.
"It's been good. I've been enjoying it. I guess you can [say] it's a little bit of normalcy," Justman, said in a phone interview.
Justman said there are only two students in her in-person classes. She said half the class learns virtually and half the class learns in person.
"It's still a little weird," Justman added.
Some professors have also said they appreciate the ability to teach in person.
"It's been great. Our facilities ITS departments have done a wonderful job setting up outside classrooms that are [of] equal [caliber] to the inside classrooms," Executive Director for Innovation and Entrepreneurship and Senior lecturer Michael Panesis said in an email interview.
Panesis is teaching Freshmen Seminar, an introductory course to campus culture for freshmen, and Panesis said his students enjoy meeting outside.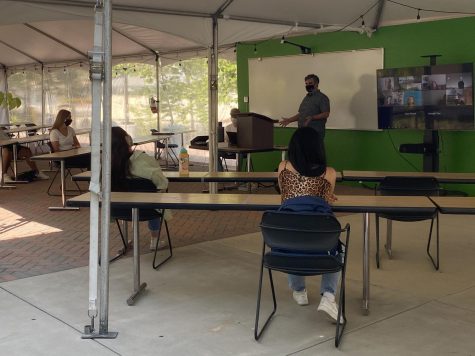 "The students seem to enjoy it. In past years, students saw having class outside as a treat. Now we get to be outdoors everyday," Panesis said.
The "Owl Systems", which Information Technology Services installed and refers to as 360-degrees cameras, allow students who cannot come to campus to still participate with these in-person classes.
"In a hybrid classroom environment, where some students are on-campus and others are remote, the 360-degree cameras are meant to help online students have a feel of what's going on in the classroom," Chief Information Officer of Information Technology, Zareh Marselian, said in an email interview. "Without a 360-degree camera, each classroom would need at least one dedicated technical person to follow the activities in the classroom."
Marselian said the 360-degree cameras have a microphone in them that can pick up voices from 20 feet away and the cameras are customized to the needs of the instructors.
However, these cameras are not intended to capture what is on the whiteboard in the outdoor classrooms–to solve that problem, IT has deployed a whiteboard reader camera that captures what is written on the whiteboard.
"As with any new technology, particularly the whiteboard readers, there is a learning curve technically, on how to make them easy to use for the instructor, and not have the technology distract from what is being taught," Marselian said.
One of the main difficulties for whiteboard reader classes was found in art classes.
"The 360-degree cameras didn't work for certain disciplines whose faculty are teaching from, say, art studio spaces on campus while students are remote, necessitating a shift to a different type of camera," Marselian said.
Cal Lutheran has continued to follow state and county guidelines, requiring all people on campus to remain socially distanced and wear face coverings.
"If public health guidelines allow it, we will offer newly formatted face-to-face classes for traditional undergraduate students starting in January," Varlotta wrote in the Oct. 15 email.