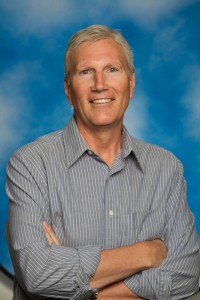 Mid-morning of the 2011 CLU faculty retreat, religion professor Jarvis Streeter began to feel ill.
Blood work was done and the conclusion drawn was that Streeter was highly anemic.
In the process of tending to what they thought to be anemia, doctors found a tumor. Six hours of surgery later, Streeter was diagnosed with pancreatic cancer.
"I knew right away when they said 'pancreatic cancer' that it was just a matter of how long. But I thought, I've lived over 60 years and I've got to spend my life figuring out how the universe works as opposed to digging ditches or working at McDonalds. It was never about, why me? Why not me? It's just the luck of the draw," said Streeter.
Streeter will continue to figure out how the universe works by completing his latest book "God and the History of the Universe." The book covers the history between the big bang and the present day, discussing the intermingling of scientific and theological influences.
"My intention is to explore where God has been in this whole process. There can only be one truth and whatever that truth is will have scientific truth and theological truth to make up reality," said Streeter.
In terms of assuring that the book gets finished and published, Streeter's former thesis advisor from Yale has offered to conclude the book and make sure it gets published, should Streeter's condition worsen prior to completion.
"It's a huge relief," said Streeter.
When Streeter is not working on his book, surrounding himself with good company, or receiving treatment, he is teaching his Exploring Christian Theology class.
Typically professors have a three-course load, but because of chemotherapy treatment and the side effects of his medication, it was decided that teaching one class would be best for Streeter.
Streeter has been open with his students about his health since the beginning of his diagnosis.
"Last spring I taught Faith and Reason and I told [the students] that there would be a chance I wouldn't make it through the semester. There's too much we don't talk about. If you ignore death you ignore a big part of life," he said.
Streeter has one "student" who is particularly involved, not only in class but in his personal life as well.
"My wife sits in on my classes. We met when I was her professor for a graduate level class. We want to end up where we started," he said.
"It's great to have her in class. She even does the reading and the other students seem to enjoy having her there."
Streeter has tried a few unsuccessful life extension drugs. The professor is taking the last drug available to him. This drug is not highly effective, but has bought Streeter some time.
"It's funny, things like this. You know, on my pill bottle it says to wash your hands immediately if you accidentally touch the pill, but I'm swallowing this thing," he said.
Being aware of his limited time left, Streeter has come to a few conclusions.
"If you feel good about the life you've lived and yourself, dying's not so hard. Having close relationships help. I haven't been scrambling to try and fix things or catch up on anything I wish I'd done. I just want to spend time with the people I love and that's it," he said.
Susan Streeter recently threw her husband a surprise party so he could feel a little closer to all the love he's been receiving. Included in attendance was a former student of his who flew in from Virginia.
"One hundred and fifty people showed up. How rich is that? Can you possibly be any richer than that?" said Streeter.
Throughout the entire process, Streeter has been overwhelmed with the response he has received.
"The only tears I have shed through this thing are over the kindness of my friends. CLU especially has been unbelievable. I don't think this sort of response could happen at a big school. I'm so thankful to Chris Kimball, the provost and the dean of arts and science. I've been very lucky. A situation like this can create so much beauty," said Streeter.
Kelsey Goeres
Staff Writer
Published Oct. 24, 2012