Cal Lutheran announces it is $3,600,000 in debt.
Faculty salaries are frozen and the size of the faculty is cut from 70 to 63. 1970–71 is known as the year of "tight money," according to the Cal Lutheran website. "By the end of the academic year, the college ends in the black for the first time in ten years, and the debt is reduced by $80,000. Enrollment nears 1,000."
The fight for women's equality gains traction.
Kuehnel said starting in the 70s and continuing through the 80s, the college began "recognizing women and the contributions of women and growing the faculty too–in terms of women–and making sure that there was pay equity which there wasn't always." 
"I remember a time when they wanted to hire somebody in our graduate program. And so I spoke with, at the time we had a Dean of Graduate Programs. And so since I was chair of Psychology… he talked about the salary they're gonna [receive] and I balked. I said, Excuse me? I'm not hiring somebody that is going to make more money than I am," Kuehnel said.
Cal Lutheran creates the Women's Resource Center.
1971
Coach Bob Shoup leads the CLC football team to the '71 NAIA championship.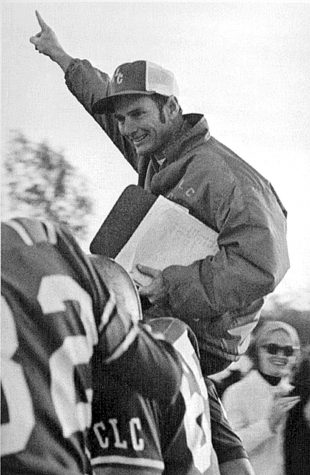 1972
February: The Board of Regents appoints Mark Matthews as the acting president.
Matthews, chair of the Business Administration and Economics Department, helped rescue the university from its indebtedness–reducing its debt by $1.5 million, according to the university website.
1976
Origination of the 'Campus Cruise.'
According to alumnus Mark Gilmore '76, in "College of Our Dreams," "since the sun was the brightest on the south side of Beta, female students designated it as Beta Beach for their afternoon tanning sessions."
Male students could pay ten cents for a tour around campus, including a "very slow excursion by the 'beach.' In this era of the polka dot bikini, the tour was well worth the cost. Conversely, the men's dormitory, Mount Clef, was the site of the Mount Clef Country Club, where the women would walk slowly to the cafeteria, ogling the muscular men playing volleyball there," Gilmore wrote.
1979
Cal Lutheran creates the Landry Medal.
According to "College of Our Dreams," the 'Landry Medal,' is named for Dallas Cowboys' coach Tom Landry, "to honor persons who have 'made a Christian commitment and a significant contribution to the nation's youth.'"