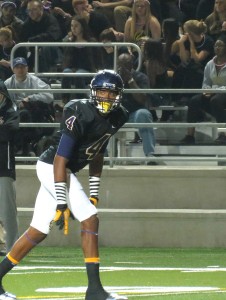 It's a bird. It's a plane. No, it's CLU's National Football League prospect Eric Rogers soaring through the air and crossing the goal line for another record-setting score.
Kingsmen football's version of Superman has been rewriting the record books for the past four years, staring at a potential NFL career.
Every California Lutheran University student, athlete, staff member and professor on campus recognizes the name Eric Rogers and his brilliance. His athletic ability and leadership on and off the playing field have undoubtedly labeled him the face of CLU football and SCIAC.
Throughout his Kingsmen campaign, Rogers has left his mark in the history books. Nearing the end of his senior year, Rogers holds records including career receptions, career touchdown receptions and career receiving yards.  He is also nearing the record for all-purpose yards.
On a chilly Saturday night at William Rolland Stadium, Rogers broke another record while reeling in seven receptions for 98 yards. The notorious No. 4 broke the all-time scoring record against the La Verne Leopards, scoring three touchdowns and a passing touchdown off a fake reverse toward the end of the second quarter.
Recently, the only thing Rogers has not done on the football field is return kicks and punts for scores and rally up tackles.
Rogers' work ethic, which is focused on becoming the best football player in SCIAC, has made him a potential NFL prospect. Many people have taken notice, including of course head coach Ben McEnroe.
McEnroe said he could not be more thankful for what Rogers has brought to the Kingsmen football program.
"There's no way to tell where we'd be without him," said McEnroe. "Eric has grown up a lot in his time at CLU, both as a man and as a football player.  He arrived on campus back in 2009 a tall, skinny kid with a little bit of a chip on his shoulder.  He's still tall, but you can see how the hours in the weight room have changed his body and he is a team captain and leader who has matured into the face of our program right now."
Unlike past potential CLU NFL prospects, Rogers is estimated to be a late round draft pick instead of entering the league as an undrafted free agent. With his already legendary CLU career, his chances to be drafted are extremely high. He says the thought of making football a career is a little surreal.
"It's somewhat unreal," said Rogers. "As a kid you think about these things coming true, but as you get older you realize it isn't as easy as you thought it would be. It's extremely difficult to make it to the highest level, so just being visited by scouts for teams is an honor and testament to not only my God-given ability, but the hard work I put in."
Rogers has truly been the backbone of the Kingsmen offense since he arrived on campus in 2009. He has put together a stacked CLU resume that includes numerous record setting seasons and has brought home four SCIAC championships.
"It's been crazy experiencing breaking records that stood for a long, long time here at CLU," said Rogers. "Honestly, I did not expect any of this until junior year even though a few coaches thought it was highly possible for me to break a couple. I had my doubts about how good of a football player I could be for whatever reason, but my teammates and coaches always believed in me."
Nicho DellaValle
Melina Esparza
Staff Writers
Published Nov. 7, 2012