Anti-racism initiatives take shape at Cal Lutheran
As racism on campus surfaced during the spring 2020 semester, followed by the murder of George Floyd and the resurgence of the Black Lives Matter movement, universities across the country, including California Lutheran University, have been forced to acknowledge their role in upholding systemic racism.
Taylor Brown, senior and PR/Social Media Manager for the Black Student Union (BSU), said in a Zoom Interview that Sisters' Circle, an affinity group for Black women on campus, and BSU have been working since 2018 to implement anti-racism initiatives at Cal Lutheran.
Anti-racism initiatives that began under former President Chris Kimball include revisiting the definition of harassment and discrimination in relationship to race and ethnicity in the student handbook, working with  RISE to evaluate the athletics department and conduct diversity and inclusion training, holding a Black Graduation Ceremony, adding a Student Inclusion and Equity Fund to fundraising efforts on Giving Day, allocating resources to the Black Professionalism Series arm of BSU, operating a Black Student Recruitment and Retention Team and dedicating a space for BSU in the Student Union.
Brown said that all of the initiatives came from Sisters' Circle and BSU's recommendations.
The new BSU space: The Alexander Twilight Legacy of Black Excellence, was the only thing that administrators designed on their own, Brown said. However, the BSU was able to decorate, choose paint colors, pick out furniture and name the space in the way they saw fit.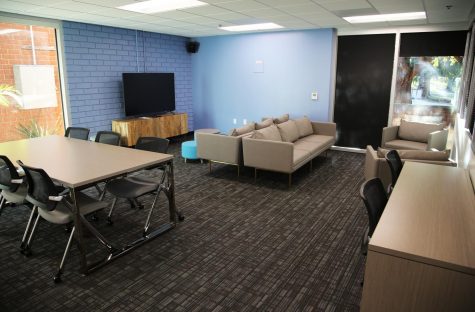 Within all of these new initiatives, Brown said "Chris Kimball was actually very instrumental, also, him and Matt Ward and Regina Biddings-Muro. They were the three that were very much hard and active on getting these initiatives put out. Matt Ward still checks in with us all the time and so does Dr. Regina."
In August 2020, Kimball stepped down and the Cal Lutheran community welcomed a new president, Lori Varlotta. 
In a Zoom interview, Varlotta said she was informed of the anti-racism initiatives before she began her tenure as president. She said she believes that her anti-racism and diversity work at Hiram College gave her a foundation for the work she will continue to do at Cal Lutheran.
"One of my strategies as the President is to build these relationships proactively before issues emerge. It's so much easier to confront uncomfortable issues or even devastating issues if you have relationships in advance," she said. "It's really hard to build a relationship amidst a crisis. So I've been doing the best I can to reach out to affinity groups and work with student groups and faculty and staff here to start to forge those relationships before any significant situation emerges on campus." 
President Varlotta's action steps
Varlotta said that there has been successes and steps in the direction towards positive policy change. She said that progress has been made in each anti-racism initiative area including adding two new diversity-equity-and-inclusion-centered positions.
The first, "a Senior Diversity Officer, the title is yet to be determined, but that person will have a senior leadership role working on the cabinet and power to work with all of the deans and all of the schools and with department heads around campus to look at diversity from a campus climate and campus culture perspective," Varlotta said.
She said this position will ensure "diversity is not just a one-off but it's embedded in how we define culture here at Cal Lutheran."
The second new position will include assisting faculty in diversity, equity and inclusion efforts within the classroom. "I believe that position will be called Director of Faculty Development and Excellence," Varlotta said.
Student-led change
In efforts to continue forward motion, Brown said the one initiative that the university has yet to implement is a dorm specifically for Black students or at least a floor in one of the dorms specifically for Black students. 
"It would mainly just be a Black dorm [hall] or even like a floor, like I said, because we're not asking for much. Because they now do have the [Global Leaders Community], which is Kramer. They have the STEM [Science, Technology, Engineering and Math] dorm which is Conejo so it's like they have dorms for particular types of students so it would be nice to see one for Black students because I always say–and I told the new President this–I was like 'we are raised differently than other cultures. Every culture is raised differently so sometimes there are culture clashes in terms of living with people. I have been a person that has had culture clashes with people," Brown said. "I have a few friends that if they were just in the dorm with other girls like them, they would've had a better time at the school. They wouldn't have left." 
Since 2018, BSU and Sister's Circle attended meetings with members of the cabinet, sharing ideas for anti-racism policies and initiatives alongside a list of recorded instances of racism on campus.
"They sat there, [said] 'we're oh so appalled,' and took notes on it," Brown said.
Brown said the entire cabinet had pretty much changed by spring 2020, when university administrators began to acknowledge the systemic issues and take direct action
"It's not like we were dealing with the same people we were dealing with last time. A lot of people weren't there anymore when we originally brought them these same documents," Brown said. "Because we literally gave them the same documents with the experiences on them and the same documents with the initiatives that we would have liked to see on campus. This time they actually took those and actually did something with them."
In a Zoom interview with Caeli Koizumi, executive assistant for Mission & Identity, People of Color Collective Leadership and Graduate Student, she said students are the driving force in this change at Cal Lutheran.
"I think that's where we see the most accountability, when there is a student call for things," Koizumi said. "In situations in regards to students, I see a lot more action and accountability related to those things because that's our priority. You are our priority. You are my priority. Anti-racism work, diversity, equity and inclusion work, it's entrenched in all of us and I think if we're all willing to answer that call, then we'll see the change. And I think we're starting to move towards that at Cal Lutheran and I think that more and more people are understanding that regardless of your title on campus, you are involved in this. You are a part of this community. You can answer the call in your own way."