Regals Tennis player Joslin Seaberg clenched SCIAC athlete of the week
California Lutheran University sophomore and Regals Tennis player Joslin Seaberg clenched the spot as the Southern California Intercollegiate Athletic Conference (SCIAC) athlete of the week following just the first week of competition.
"It feels really good especially during COVID because it's just really rewarding to feel like that because I've trained so hard," Seaberg said in a Zoom interview.
Seaberg said she attributes this accomplishment to the work she put in during the off-season. At the beginning of the pandemic, she said she was working with a personal trainer back in her home state of Utah before coming back to Ojai, California to stay and play at a tennis academy prior to the start of the spring semester.
Regals and Kingsmen Tennis Head Coach Mike Gennette said in a phone interview that Seaberg has improved a lot since she was a freshman and that she's a player every coach loves to work with.
"[She] loves tennis [and] loves improving," Gennette said.
Gennette said Seaberg has a good court presence and that she fits in both lineups as a singles and doubles player.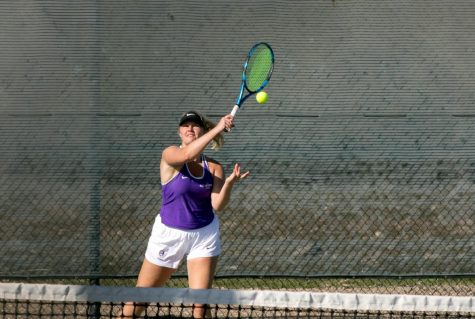 Junior teammate Brennan Foreman said in a Zoom interview that Seaberg always puts her best effort in and is a really good player.
"She definitely deserves to win SCIAC athlete of the week–for sure," Foreman said.
Both Gennette and Foreman said a lot of Seaberg's success is a result of her hard work during the off-season and that she's a great teammate and player to have out on the court. They both also talked about her consistency on the court and uplifting attitude.
"I think it's the consistent work ethic year-round that is showing some good dividends for her," Gennette said.
Gennette said Seaberg earned this award because she showed a lot of fight physically and mentally and because of her persistence to push through adversity.
Gennette said he is excited for what more is to come for Seaberg and that every time she shows up to practice she is ready to train and learn.
Seaberg and Foreman both said they were excited to bring home the SCIAC athlete of the week award not only to Cal Lutheran, but to the tennis community as a whole.
"It's super cool especially because just with COVID and everything obviously there hasn't been many sports playing so it's just kind of cool to get to play and compete as one of the only sports right now," Foreman said.
Seaberg said their team still has 10 to 13 matches left this spring and that she's hoping to keep the momentum going.
"I am [thankful] for my coaches and my school for fighting for us to have a season because I know it was really hard and there are a lot of rules but I'm really happy that I get to play," Seaberg said.