Veterans honored by CLU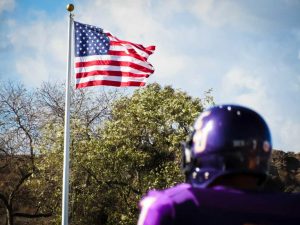 In celebration of Veterans Day, CLU welcomed veterans and active members of the military to join the campus community on Saturday for a meet and greet event where people thanked them for their service.
The fourth annual Meet and Greet took place before the last Kingsmen football game of the season.
Retired Navy Capt. Jim McHugh said he always feels welcomed and appreciated by the CLU community. He added that there is no other school that pays such great homage to veterans and the military.
McHugh was deployed many times in his 26 years of service with the U.S. Navy. He visited various parts of the world and was stationed at the Pentagon during the Sept. 11 terrorist attacks.
"It was traumatic," said McHugh. "My wife was in the building across the street and she was also eight months pregnant at the time. She was very worried about me, especially when she didn't know where I was exactly."
This year's meet and greet event was hosted by the Community Leaders Association (CLA) at CLU and CLU's Military Veterans Club.
CLA Appointed Executive Director Cindy Keitel remembers when active duty members came to the opening of the stadium in 2010 and were doing push-ups every time the CLU football team scored a touch down, getting the crowd fired up.
For Keitel, it is important to acknowledge the efforts of those men and women.
"People weren't sure quite what to do and so the [Military Veterans] Club was formed to bring awareness," said Keitel. "Ventura County has the largest naval base, parents, students who were or are members of the active duty and faculty. We are far more connected to veterans than we realize."
Senior and president of the Military Veterans Club Jenn Zimmerman served in the military for four years. She did two deployments to the Arabian Gulf. Zimmerman served aboard the USS Boxer- LHD-4 Ship, also known as a "Marine taxi cab." The missions consisted of dropping off more than 3,000 U.S. Marines in different parts of the Arabian Gulf.
"I felt like I had to do it for my country," said Zimmerman. "It was a humbling experience and an honor. I remember on my first mission, five of the Marines we dropped off didn't make it back on the ship when we came to pick them up.  You can't put words to it."
Vice-President of Military Veterans Club Adam Muraoka remembers settling in at college after serving in the military. Having no one to relate to made it difficult and so he searched for a way to start a club that would cater to the needs of a veteran.
"I was bewildered not knowing where anything was, trying to register, and just jumping through hoops," said Muraoka.
Muraoka served with the U.S. Army in Iraq, where he stayed for 15 months.
"It was during the third year of war in Iraq," he said. "My job, and that of my partner's, was to clear out the road for the rest of our troops to be able to get by, and if there were any explosives or dangers we sacrificed our life for them, for our country."
Muraoka said Mosul, the city where he stayed in northern Iraq, had no sewage system, no clean running water and no electricity.
Liberty Program Assistant Manager Matt Musser invited 15 active members of the military to attend Saturday's football game and be honored at the ceremony.
The Liberty Program is a community support program dedicated to recruiting active military personnel ages 18 and over and providing a recreational area for them to meet new people and enjoy themselves.
"Seeing these young kids sustaining this feeling for freedom, that's what it's all about," Victor Jerez, who served during the Vietnam war, said at Saturday's ceremony.
Jerez is also the director of public relations for the Military Order of the Purple Heart.  Ac-cording to Jerez, the organization assists "veterans that need help with benefits and everything else."
During Saturday's football game, the Military Veterans Club gave away Buddy Poppies in exchange for a donation to the Veterans of Foreign Wars. Disabled veterans make the poppies, which is the official memorial flower of the Veterans of Foreign War.  The funds raised directly benefit veterans and their families.
The game included a special halftime presentation.  The crowd was prompted to pay their respects to the members of the military present at the game.  Military members and veterans rose when their branch's song was played during the Armed Forces Medley, played by CLU's pep band.
Maria Castrejon
Staff Writer
Published Nov. 14, 2012