Kwanzaa celebrates African American heritage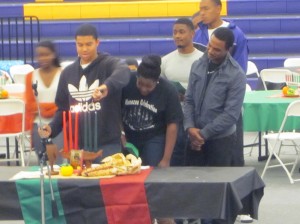 The Kwanzaa celebration held this past Saturday in the Gilbert Arena, was filled with live music, food, dancing, singing, prayer and more. From 10 a.m. to 2 p.m. students, staff, faculty and members of the community attended the free event.
"We are going to take a seven-day celebration and turn it into a one-day [event]," said Daniel Lawrence, coordinator of Multicultural Programs.
This event has been a long-standing tradition at CLU. This year's celebration was hosted by California Lutheran University's Multicultural Programs in association with CLU's Black Student Union (BSU), the NAACP Saturday School and the local Afro Centric Committee of Ventura County.
Kwanzaa is uniquely an African American holiday that was created in 1967 by African American professor, Maulana Karenga.
Kwanzaa begins on Dec. 26 and ends on Jan. 1.  It is a week-long celebration of lighting candles, which represent the seven principles of Kwanzaa.
The seven principles are unity, self determination, collective work and responsibility, cooperative economics, purpose, creativity and faith.
"It provides us an opportunity to acknowledge those who have come before us and led us to be where we are today," said Lawrence.
During Saturday's event there were enough activities to keep attendees entertained for hours while learning about Kwanzaa.
Tables were spread throughout so attendees could sit and enjoy potluck food and listen to a ceremony by CLU students. There was a time for prayer as well and a libation ceremony.
Vendor tables were covered with beautiful and authentic African American goods such as bags, handmade lotions and soaps, jewelry, scarves and artwork. One table contained glasses filled with apple cider, which participants drank to honor their ancestors.
A live band in the middle of the arena provided music and entertainment.
Sophomore Andrew Atakpo took part in the Kwanzaa event for the first time as president of the BSU.
As he waited for attendees to arrive, he anticipated the success of his first event.
"I am excited for it. We should have quite a few people from the community coming out so I am excited to see how it goes," said Atakpo.
The BSU participated in the opening ceremony that lasted close to 30 minutes and included the lighting of the seven candles.
"I think it is interesting how we can bring an event like this to a school like this," said BSU Secretary Jess Pruitt.  "I think it is great how we are able to close down Gilbert Arena during basketball season, which is a busy time of year, and take time out to support the BSU."
As the BSU and Multicultural Programs opened their arms to the public for this event, students, faculty and community members shared and learned more about the holiday season and what Kwanzaa has to offer.
Kristin Cameron
Staff Writer
Published Dec. 5, 2012