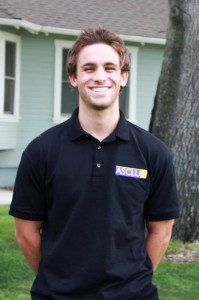 CLU junior Erik Myers has chosen to take a positive and inspiring approach to handling life's difficulties.
Myers is a full-time student at California Lutheran University, who promotes positivity as much as possible. Myers recently started his own YouTube series, called "Motivational Mondays."
The series features Myers discussing topics he feels are important and helpful to others.  He is particularly passionate about gay rights.
Myers said his drive to share his positivity sparked from a memory of when he was a freshman, the day before he moved into the dorms.  It was also the year that his father passed away. It took a while for Myers to come to terms with his father's passing. Last January, he felt like he was in the lowest place of his life.
Myers knew that he had to make a change.  He felt like he needed a purpose.
"I had to rebuild my confidence and once I found positivity and a different outlook on life, I realized how valuable life is," said Myers.  "Tomorrow is not guaranteed."
Myers realized his potential, and wanted to help people understand and realize theirs.
People who know Myers know he always has something positive to say.
"Erik is the most inspirational young person I've ever met.  It's extremely rare to meet a guy so young with such an awesome and healthy outlook on life and friendship," said junior Jordyn Niblack.
Niblack said the moment she met Myers, he was unusually welcoming and approachable, something different and inspiring to see in someone his age.  She said that he doesn't care about his popularity or reputation and is completely genuine.
"Every word that comes out of his mouth means something," said Niblack.
In addition to his overall positivity and motivational videos, Myers also believes in marriage equality.
This can be inspirational for people who can relate, such as junior Kristen Dauler.
"Having a brother that is gay definitely makes me more sensitive to the discrimination I see and hear," said junior Kristen Dauler.  "I tend to take it personally because I feel for my brother and I would never want him to feel ashamed for the wonderful person he is."
Myers explains that even though he receives a lot of positive feedback, there are always a few negative comments on his YouTube channel.  Some people tell Myers not to push his positivity on others.
"It's difficult at times, but you're going to find your happiness on your own," said Myers.  "Some people are so consumed in negative thoughts."
At first, Myers' family wanted him to be cautious about his decision to make motivational videos on YouTube due to the fact that some people might be upset about what he said.
Myers wrote a speech about his feelings on gay rights, and hopes that it will send a message to people.
"We as a society have got to be more educated than that and see how natural this world is.  People are the way they are because that is what feels right to them.  By taking away their right to marry, we are denying love," wrote Myers.
To hear more of Myers' inspirational words, check out his channel at www.YouTube.com for new "Motivational Mondays" segments.
Lizzie Lopez
Staff Writer
Published Dec. 5, 2012