Kingsmen Soccer secure a close conference win over CalTech
In their first Southern California Intercollegiate Athletic Conference game of the season, the California Lutheran University Kingsmen won by a score of 1-0 on Wednesday, Sept. 15 against the California Institute of Technology Beavers.
The Kingsmen put pressure on the Beavers in the first half of the game, keeping the ball in their possession. However, the Beavers were able to maintain a strong defense and kept the Kingsmen from scoring.  
Junior defender Tyler Sherard had been a key player for the Kingsmen's line of defense until he was pulled out of the game due to a knee injury.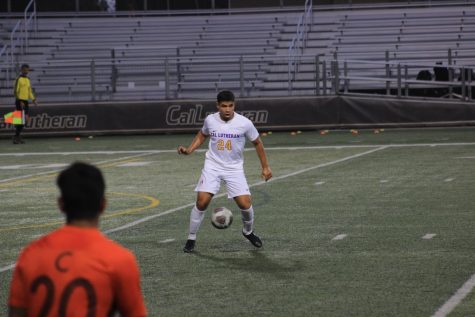 "I mean one of our center backs, Tyler Sherard, he got injured. So we just had to adjust ourselves, pick some other guys who have never really played that position. We put them back there一 I mean we did a really good job but it really like hurt us when he got hurt," said Erick Mejia, senior defender.
With 15 minutes remaining in the first half, the Kingsmen came up empty on two scoring opportunities. Once by a long shot from senior midfielder Justin Magana, and the second by junior forward Matt Myers advancing it up to senior midfielder Christian Gonzalez sending it high over the bar.
The Kingsmen made up for one of those two lost scores when Myers scored in the 32nd minute. Some team work went into the shot with a long ball sent from Sherard to junior midfielder Chris Pelaez, who crossed it over to Myers.
The Cal Tech Beavers continued to have a firm defense into the second half of the game, making it difficult for the Kingsmen to score.
Though the Kingsmen won the game, the end result was close. 
"Honesty I feel like we just came out too confident, thinking that Cal Tech wasn't going to be as good of a team. Then as we saw the score, it was only 1-0, I think we should have won by way more. It was just us coming out way overconfident," Mejia said.
The team's expectation to win by a larger margin was not fulfilled.
"I think we should've won with more goals, but it didn't happen," said senior goalkeeper Ivan Lumbrano. "[I]t's fine we move on, we mature up, and we move on to the next game."
Head Coach Miguel Ruiz has made it clear that improvements need to be made in order to come out stronger the rest of the season. The struggles that came with their win were going to be a learning lesson for them.

"I think slowly we are getting where we need to go, but I think tonight we should've played better," Ruiz said. "I thought we were a little bit slow today, pretty lethargic, there's been a lot of grind, so hopefully we'll rebound."