CLU community gives back by giving blood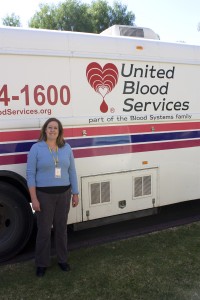 The CLU community participated in United Blood Services' semi-annual blood drive this past Thursday hoping to achieve its goal of beating last fall's record of 80 donated pints of blood.
Students were encouraged to sign up and register at the bloodmobile on campus while it was available between classes and meetings. The sign-up process was simple. Students were able to come to the bloodmobile during the event to make a walk-in appointment.
Participating in annual blood drives helps increase the blood supply in the U.S.
Sherie DeVillers, senior donor recruitment representative for Ventura County, said the fall and spring events have been a part of CLU for over five years.
"The blood drive allows students to help be a positive contribution to the community," said DeVillers.
The United Blood Services encourages students to donate blood every three years.
After giving blood, students were informed of their blood type, total cholesterol level and evaluated for any risk of coronary heart disease.
DeVillers considers this process a "mini exam" for students.
According to DeVillers, it is recommended that all adults, 20 and older, have their cholesterol levels evaluated once every five years. Before donating blood, it is important for donors to have a healthy meal.
Confidentiality was also key to comply with health privacy laws.
"We service a variety of major local hospitals in Los Angeles, Ventura and Santa Barbara Counties," said DeVillers. "Students donating blood today will save three lives in less than an hour."
According to DeVillers, in the U.S. alone, four million people are in need of blood every year. That is one patient every 12 seconds. Also, there is no artificial substitute for blood; therefore, this annual blood drive is critical to those in dire need of blood.
Many first-year students contributed to the blood drive this year.
Freshman Ashley McCoy felt fortunate to donate blood for the first time.
"I always wanted to be a blood donor, but have never been able to in the past because of my height and weight," said McCoy.
There are many stipulations that prevent possible donors from donating blood.
There are some weight and height restrictions for donors younger than 23 that require an extensive evaluation before an individual is permitted to become a donor, said DeVillers.
"The first time I went to donate I was rejected because I was 16," said freshman Sarah Robles.
Robles was unable to donate as a teenager due to the required age limit. All persons 18 and older are permitted to donate.
However, California law only allows those 16 and 17 years of age to donate with parental permission.
"I'm donating now because it's on campus and I finally can," said Robles.
Marrow registry was also available on campus through the Be the Match Foundation. The United Blood Services and Be the Match both reassure  students of the importance of being a donor.
Be the Match Foundation is an organization whose primary focus is to match possible donors for much needed stem cell and bone marrow transplants.
CLU has provided the availability and opportunity for its students to partake in a community outreach effort that has proven successful in saving many lives.
Cydneye Radley
Staff Writer
Published Feb. 27, 2013