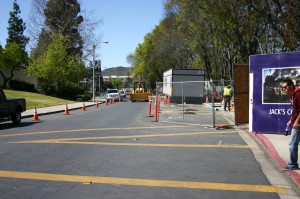 Construction of the new Ullman Commons has been experiencing some recent delays, and with the newest construction phase taking place on Memorial Parkway, multiple commuter parking spots have been blocked off, causing a bit of a disturbance to the CLU community.
Senior commuter Leanna Garcia is disappointed that she won't be able to experience the new building before she graduates in the spring.
"I feel like they're not progressing quick enough that I can see change," said Garcia.
Other students on campus agree the construction of the building has been slow going. Last semester, students also felt nothing seemed to be going on in the lot that once held the Student Union Building. But unknown to many, the plans for Ullman Commons, scheduled for completion sometime in 2014, have not gone as smoothly as was originally anticipated.
Senior Project Manager Valerie Crooks said they have run into problems that are not normally seen on project sites. These problems include the SUB's electrical system not matching up with the new building's, having a leaking transformer put in by accident and the finalization of the Ullman Commons taking longer than usual.
"It's one of those projects where you have to be flexible and you have to really just try to look at the big picture the whole time," said Crooks.
Because of these problems, the foundation of the building has had to wait until the utilities could be put in. However, students will start to see progress on the lot within a few weeks.
The next step in the construction will be to put in a storm drain line by Chapel Lane. Crooks said that, during spring break, the whole street will be shut down.
"That's going to be a major operation," she said.
Currently, the construction crew has had to block off multiple areas on Memorial Parkway in order to put in three new water lines that will be connected to Ullman Commons. In addition to the water lines, a new hydrant will be put in close to the K Building. Because the crew is forced to work in the center of campus, commuter parking has been impacted.
"I've kind of gotten used to the fact that I'm not going to get a spot on the street, unless I get here super early," said Garcia.
Since the spaces have been blocked off, Garcia typically parks in the G1 lot near the Welcome Center.
"We are tight on parking on the south campus," said Fred Miller, director of Campus Safety at CLU. "Anytime you remove parking spaces temporarily, it does have some kind of negative impact of the availability."
Miller said that besides isolated incidents, there has not been an increase in parking violations due to the construction. Within a few weeks, most of the spots will be reopened to the commuters.
Once Ullman Commons has been completed, students will be able to enjoy a dining hall on the second floor that looks over Kingsmen Park, along with patios that will wrap around the building so that students can eat outside. There will also be a coffee shop, a student lounge and an upgraded market for grab-and-go options.
"This is a very difficult project and, unfortunately, there's no way around having some inconvenience in order to accomplish it," said Crooks. "The benefit is just going to be spectacular."
Lauren Blachowiak
Staff Writer
Published March 6, 2013