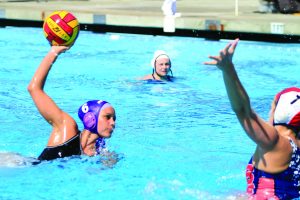 Warmer temperatures and the onset of spring brought about a Regal offensive attack that neither St. Francis College water polo nor George Washington University could stop on Thursday afternoon.
In game one, the Regals took a 1-0 lead over St. Francis, just 26 seconds into the game. St. Francis kept it close in the first half  as they fought to tie the game three times.  However, they were unable to deal with the Regals who led 12-7 with 3:06 left in the third.  The Regals went on to win game one, 17-10, with the help of senior Jane Galluzzi's five goals and freshman goalkeeper Gina Merry's 10 saves.
"We all played really, really well.  I mean, not all of us had the exact outcome that we wanted for ourselves, but the way that our team works together we can just focus on one common goal no matter what's going on personally, and how we're playing really works well," said sophomore Kehau Ai.
Game two featured an overtime thriller as the Regals took on George Washington.
This time, it was the Regals who found themselves down early in the game, trailing 0-2 just 1:17 into the game.  With 3:34 left in the third quarter, the Regals were down 2-5 before senior Morgan McCardell scored back-to-back goals, bringing the Regals within one.  A minute later, Ai lobbed a shot over the goalkeeper to tie the game at 5-5.
"We started to counter attack a lot more than we did in the first half," said head coach Craig Rond.  "We were able to beat their press and counter out of it, which led to open goals."
The two teams, tied 6-6, headed into the first overtime period where it was sophomore Jordan Card's turn to score back-to-back goals, giving the Regals an 8-6 lead.
"Honestly, I wasn't even thinking about anything.  I just thought we need to score, and it doesn't matter if I miss it or if I make it, I have to shoot these or we're not going to win," said Card.
A final goal by Galluzzi in the second OT period sealed the 9-7 victory for the Regals.
"I think in both games we came out back and forth with both teams, but the nice thing about today was that we were trying to work on making game adjustments at halftime and understanding that that's what it's going take to win games down the stretch," said Rond.  "When we make good adjustments, good things happen and that's what happened in both games today."
"We just need to keep up what we're doing," said Card.  "We've done such a great job of understanding that we need to change stuff at the half and how to improve.  We just need to keep working and improving."
The back to back win over two Division 1 teams will serve as a huge momentum boost for the Regals as they travel to Occidental today to begin SCIAC play at 5 p.m.
Jase Magarifuji
Staff Writer
Published March 20, 2013