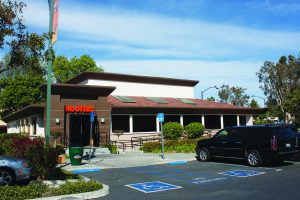 It's no secret that Thousand Oaks is a more conservative city than most. It has made the top 10 safest cities list on multiple occasions, even taking the number one spot in 2004, according to the Los Angeles Times.
Many Thousand Oaks residents hope to keep up this image, which is why some people are speaking out against Hooters restaurant putting in a full bar. Hooters is now back where they started: Fighting the public opinion.
Several hundred residents made it clear from the beginning that they would not support the building of Hooters in their city.
Hooters restaurant received resident complaints during nearly every step of the construction and opening process.
But what is it about Hooters that is causing so much opposition from the city's residents?
Hooters restaurants carry a very particular image, and for some people it comes across as inappropriate. Opponents feel that the image of the restaurant will damage the image of the city itself.
However, this is not the opinion of all Thousand Oaks residents. For longtime resident Tammy Potter, Hooters isn't harming the city.
"Having a Hooters with a full bar won't damage the city's image," said Potter. "When an establishment begins to create illegal and illicit activity, then maybe the city might be harmed."
Hooters is not just a bar; it is a restaurant first and foremost, which is something Thousand Oaks could use more of, said Potter, as she joked about the difficulty of getting a table anywhere else on a weekend.
As for Hooters employees, the installation of a full bar would benefit them in a number of ways.
Not only will it possibly lead to an increase in local jobs, but will dramatically increase the amount of business they will receive. The Thousand Oaks  Hooters currently only serves beer and wine, leaving those who prefer liquor without a drink.
CLU senior Brooke Hubbard has worked at this Hooters location since its opening in May, 2012. Hubbard is hoping for the increase in business for many reasons, and is positive that the new bar will attract more people.
"You would be surprised how many people will walk in, find out there is no liquor and will turn around and walk out," said Hubbard. "Being able to accommodate for more customers will not just help the overall business, but also each of us individually. With more customers comes more tips."
Hubbard firmly believes that adding a full bar will not just benefit the business, but will benefit the community, especially the students of California Lutheran University. Hubbard believes that CLU students could use more places like this. Thousand Oaks doesn't offer many choices for college students, but Hooters does give them a nice location for socializing.
"There are so few places in Thousand Oaks that are open every day, and serve drinks and food late at night," said Hubbard.
Many residents believe the city doesn't need another bar, and that we don't need another Tipsy Goat or Mermaid Tavern. But Hooters is a restaurant, not a bar, which makes their argument invalid to me.
CLU sophomore Noa Bryan doesn't understand why residents are making such a huge deal about Hooters.
"When I go into a Hooters, I see it as just another restaurant," said Bryan. "It's also your own choice whether or not you go there, so why should it matter if others enjoy the restaurant?"
We live in the United States. We have the free choice to eat where we please. Just because there is a Hooters in your city, doesn't mean that you have to go and eat there.
It's our choice to go, but this is also why the owners of Hooters should have the freedom to structure their restaurant in whatever way they please. Adding the full bar carries a greater amount of benefits than consequences.
Graham Jameson
Staff Writer
Published March 20, 2013