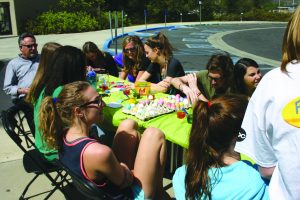 The CLU community has been receiving emails titled "Lenten Devotion," which are biblical passages that prompt us to reflect on our spirituality.
The Lenten devotion email tradition began around 2005, bringing attention to Lent and strengthening the Lutheran identity on campus.
"Interim Director of Church Relations, the Rev. Howie Wennes, came up with the idea eight years ago. Part of the work of the Office of University Ministries, which includes the Office of Church Relations, is to lift up our Lutheran identity on campus," said Linda LeBlanc,  assistant director for Church Relations.
Some who have read the devotion emails have been inspired by the biblical passages and stories.
"Through the years, I have heard from people about how much these devotions mean to them and how much they are appreciated," said LeBlanc. "And those who write these devotions also hear about how much they are enjoyed. Many people also forward these devotions on to friends. I heard from one Regent who forwards these devotions to 130 people. Also, per a request, the devotions are now being translated to Spanish to reach another population on campus."
Kelly Moro, a sophomore at CLU, said the devotions are inspirational to her.
"It's just nice to know that our school cares enough to help us learn more about God and who created this school and founded this university," said Moro.
Some students, having grown up in a religious background, feel at home celebrating Lent on campus.
"For this Lent, I gave up soda, which is still going strong, so I'm so excited about that. I practice Lent because this is something I have grown up doing since I was small. It's just something we do and kind of like a tradition in a way," said junior Vanessa Hernandez.
Junior Xavier Garcia was also brought up religiously, and still practices his faith as a CLU resident.
"When I was little kid, I gave up more like materialistic things, like candy all the time or soda. But as I got older, I was kind of told by family members and spiritual leaders that it's kind of more making yourself better and making a commitment, like a sacrifice in a way, to improve yourself. This year, I gave up procrastination, something I want to improve on," said Garcia.
Other students say the devotions help them become more spiritual.
"I just realize I don't need the things that I do. I feel you can replace them with more important things and you get a little bit closer to God," said senior Lauren Cabral.
"I try to give up watching so much TV. It does help, I mean, I feel closer to God," said freshman Karla Aviles.
Lent starts on Ash Wednesday and ends on Easter Sunday. Lent is the practice of reflecting on your own spirituality through fasting.
"I think it nourishes the spirit to do any kind of focused introspection. I think that marking off a specific period of time helps many people because it gives the structure so many people need," said religion professor Brooke Nelson.
Lent strengthens spirituality by having Christians reflect on the life of Jesus.
"Lent is a very old practice. In the second century, Irenaus wrote about a season of self-examination of penitence, although he only wanted it to last a couple of days. By the Council of Nicaea in 325, the Church had agreed on a full 40 days of fasting each year to help refresh believers," said Nelson.  "I think that it is important to discuss Lent in a historical context because people of all denominations of Christianity want to feel connected to those earliest followers of Jesus. Replicating practices like Lent, century after century, reminds people of their roots."
Pastor Kenneth Macklin from the United Methodist Church, and business and management professor at CLU, believes the biblical passages of Jesus in the desert makes Lent become an opportunity to reflect on one's relationship with God.
"It was a season in which people could return to the church from sin or fault. It gave people an opportunity to practice the spiritual discipline in such a way that it could renew their baptism and begin anew. So it was an opportunity for prayer, for fasting and for various spiritual disciplines that help people to perhaps enhance their faith, their love and their hope," said Macklin.
Kikey Aguila Bello
Staff Writer
Published March 20, 2013