Kingsmen and Regals track and field teams eye SCIAC Championships
With the Southern California Intercollegiate Conference Championships up next, the California Lutheran University Men's and Women's Track and Field teams are "finding the pieces of the puzzle" in the hopes to further their season into the National Collegiate Athletic Association championships.
"It's not just what you are doing every day for two hours at practice, it's what you are doing outside of practice as well," Head Men's and Women's Track and Field Coach Brett Halvaks said. 
Junior Sarah Bjornson said "pieces of the puzzle" means they are trusting the process and focusing on being supportive teammates.
Despite being voted to finish in eighth place in SCIAC by the SCIAC coaches poll at the beginning of the season, Halvaks said they are optimistic going into the championships and said they can prove everyone wrong. 
"We are really young this year, over half of our team is either first-years or sophomores, so we are really learning a lot with our team and growing meet by meet…we are seeing new PRs [personal records] week in and week out," Halvaks said. 
In preparation for the SCIAC championships, and looking towards reaching the NCAA championships, three members of the team attended meets outside of regular team meets to compete against NCAA Division I athletes. 
On the women's side, senior captain Zaria Opara competed at the Bryan Clay Invitational from April 13-15, and senior captain Cooper Curtin and junior Jake MacKinnon from the men's side competed at the Annual Mt. SAC Relays.
"It is something we have not always done in the past, but with these athletes, we wanted them to get more competition," Halvaks said. "The goal is as we do this year in and year out, we do this with more athletes so that when we go into NCAA it is not such a shock."
Opara and MacKinnon both competed in hammer throws. Opara earned 35th place and MacKinnon placed 33rd. Curtin broke his personal record and set a new Cal Lutheran record at the Mt. SAC Relays where he placed third overall with his 4.90-meter pole vault. 
"It feels good. I think when I came here as a freshman the original record was something I always dreamed of achieving…it has been four years of really hard work," Curtin said.
Curtin said his top priority is nationals and his long-term goal is to be an All-American, an award given to U.S. athletes for their outstanding seasons at the collegiate and high school levels.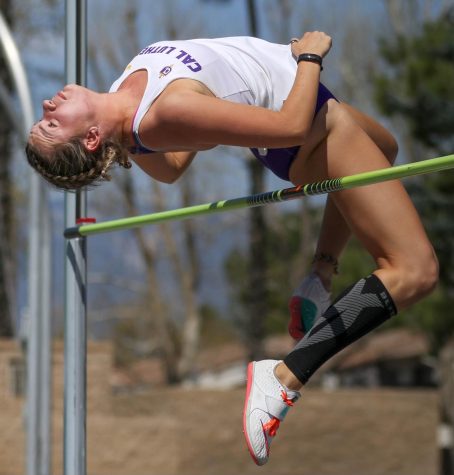 "I would like to jump 5 meters, which is about 15.5," Curtin said. "Those are some lofty goals but I think we got some time left." 
Along with Curtin's new record, the track and field team has also had members of the team inducted to the Cal Lutheran Track and Field Top 10 List this season. Bjornson is one of four Regals on the track and field team that is now on the Top 10 list. The Kingsmen have had three added to the men's list this season. 
"It was very surprising. Last year I got No. 6 for pole vault…with high jump, it was very unexpected because I thought I was having a bad jump day, but I ended up doing really well," Bjornson said. 
While they have had individual success, as a team, the Kingsmen and Regals are focusing on the process, Halvaks said. 
"It is on some of the older seniors and captains to make sure everyone is up to the standards that the coaches want," Curtin said, "It is our job to make sure that they understand what we are trying to do here."
Bjornson said, this season, she thinks that the team is struggling with having to go to Moorpark High School five times a week for practice, and the scheduling issues that come with it when they are forced to share the field with the high school sports. 
"As upperclassmen, I feel like we didn't set a good example for how to react when that happens," Bjornson said. "I feel like people had a bit more negative reactions this year than normal." 
Halvaks said having a track on campus is part of what "pieces of the puzzle" is all about.
"We can control what we can control, yeah it's unfortunate we don't have a track, but we don't have to harp on it, let's focus on what we can focus on," Halvaks said. "We have had five or six different national champions all without having a track."
Bjornson said that, at the end of the day, what matters is that the team is trying their best and supporting each other. She also said she hopes more people think about going out to support them at their meets.
"It would just be fun to have more people at Cal Lu support us and come out," Bjornson said. "This year we have a lot of really good individuals that are going to have great seasons."
The Kingsmen and Regals will compete at the SCIAC Championships Saturday, April 29 and Sunday, April 30 at the University of La Verne.