CLU hosts youth sports camps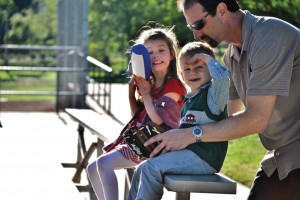 Summer sports camps are coming back to CLU starting in June. This is not the first time California Lutheran University has held the camps, but it is the school's first time hosting and funding them on its own.
"This is the first year in the recent past that CLU is putting on the summer sports camps," said Jim McHugh, assistant to the president of athletics who is spearheading the camps. In the past, he said, the camps have been run by separate entities that weren't affiliated with CLU. McHugh is making a push to get the word out and gain public attention.
"We are advertising in the area, and an article is also being written in the Acorn to get the word out," said McHugh.
The camps are open to any child in Thousand Oaks and the surrounding areas.
"The camps are intended for students younger than college age, mainly grade school. Some of our athletes here at school will be helping out at the camps and working under the coaches," said CLU Media Relations Manager Karin Grennan.
The camps will consist of a football camp for kids between the ages of five and 12, a soccer camp for ages five to 13 and a volleyball camp for children 12 to 15.
Water polo is also included in the camp, but campers have the option of joining the day camp program or staying overnight. Water polo campers who stay overnight will eat and stay in housing on campus.
The dates of each camp vary, but all are four days long, and happen in late June and mid-to-late July. CLU's top coaches, such as Ben McEnroe of the football team and Kellee Roesel, the head coach for CLU women's volleyball, will be working with campers.
"I will be coaching and I'll have assistants helping me with the program. The campers will be divided into groups and will be working with myself and the assistants," said Roesel.
Pricing for the camps varies, depending on the sport, but a rough cost is anywhere between $140 and $175. The cost for the water polo camp is a bit more expensive, starting at $495.
For more information on each camp, visit www.clusports.com.
Brock Funfar
Staff Writer
Published April 10, 2013