MPPA class visits the state capitol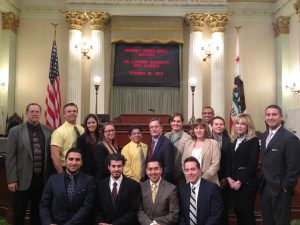 CLU's public administration class travelled to Sacramento and met several California assembly members and lobbyists.
Herbert Gooch, professor for the Master of Public Policy and Administration (MPPA) program, and students of his Sacramento Institute course visited the state capitol from Feb. 24 through 28.
During the four days, students were able to meet and speak to 12 different State Assembly members and lobbyists.
Among these were Senator Fran Pavley, Assemblyman Scott Wilk, Jack Stewart, president of California Manufacturers and Technology Association, and Jennifer Fearing, California state director for the Humane Society of the United States.
"The trip to Sacramento really brought much of what we learned about public service in the program to life," said Jennifer Petersen, who will be graduating from the MPPA program in May.  "I was really impressed by their dedication and their responsibility and sense of duty to make policies that best serve the citizens, in their opinion, of California."
Petersen said the trip helped her better understand the work that goes behind policy making and she wishes all citizens would make the trip, not only to their state capital, but also to Washington, D.C.
"It opens up your eyes to California politics and all the issues," said Petersen. "It makes you more aware of the policies and issues that will have a major impact on us."
Petersen and classmate, Elizabeth Foushee, both agreed that besides the great camaraderie that the trip built, what they really enjoyed was using what they've learned in class in real life.
"It's one thing to read it in a textbook and another to talk to the people that are actually implementing and working through the issues," said Foushee, who anticipates graduating in May 2014. "It's much different."
Foushee, who was promoted to human resources director for the city of Simi Valley after entering the MPPA program, said she will be able to apply much of what she learned on the trip to her job tasks.
"I really have so much more appreciation for what it takes to get these things done," said Foushee.
Although very few of the students who went on the trip are planning on going into elected office in Sacramento, Gooch said the trip was still beneficial to them as they saw how policies are shaped and implemented.
"I think of [the trip] as a classroom without walls," said Gooch. "It's more than that. It's that you're in a place that's part of the real world and people having to grapple with it."
Gooch said he made sure the students were able to meet with both Republicans and Democrats during the trip so they could be exposed to the reality of policy making.
"Here's somebody passing [a policy] and filled with details and an hour later, here's somebody 180 degrees on the other side and [the students] should get that experience," said Gooch. "In real life, sometimes there aren't answers, and on the other hand, sometimes there are right answers. But there's more than one answer that might be correct, so how do you make up your mind?"
Mayra Ruiz
Staff Writer
Published April 10, 2013