Softball continues hot streak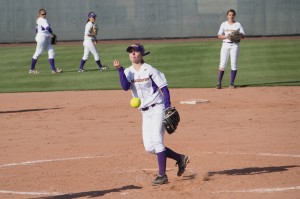 Saturday was a day to commemorate the CLU seniors, support the Strike Out Cancer Project and celebrate the Regals softball team's sweep over Pomona-Pitzer.
Game one was a battle that lasted eight innings.
The Regals trailed 0-1 until the bottom of the third when sophomore Shonna Christianson and junior Kayla Sakamoto came in to score, giving them a 2-1 lead.
With the Regals behind 3-4 in the bottom of the seventh, Sakamoto singled to right field to get things started.  She later scored on a sac-fly by freshman Blake Lewis, sending the game into extra innings.
"I knew that I had to start it off and get on base somehow," said Sakamoto.  "I knew that the team would be able to score me.  I just tried to stay relaxed at bat and be smart on the bases."
In the bottom of the eighth, junior pitcher Katelyn Downing hit a walk-off double to score sophomore Christina Hunter, giving the Regals a 5-4 game one victory.
"We put a lot of good at-bats together, we were making good contact and our pitching kept us in the game," said head coach Debby Day.  "When we hit well, pitch well and play defense, we can play with anybody."
In game two, the Regals took a 2-0 first inning lead and never gave it back.
Senior Brittany Labbe singled up the middle in the bottom of the second to score sophomore Liz Mertel, pulling the Regals ahead 3-0.
Labbe took the plate again in the bottom of the fifth, this time hitting a deep double, scoring freshman Taylor Beacham, senior Debben Hoffer and herself off of a throwing error, giving the Regals the 9-1 mercy-rule win.
"I was just kind of thinking to sit back and wait and drive it," said Labbe.  "I wasn't really thinking 'game winning hit.' I was just thinking we need a single, and we need people to score."
Game two marks the second time this season the Regals scored nine and won in five innings.
"We all played as a team, we came together, and we did what we needed to do.  People made the right plays at the right time," said Labbe.
Labbe, Hoffer and senior catcher Shannon Tinsley were honored after the game as part of Senior Recognition Day.
"This is a really special group for us," said Day.  "They all came in last year as transfers and have given us a more mature feel to our team, pushed us all to be better players and helped us to be accountable and work hard and have fun."
The seniors will play their last home game this Friday in a double-header against Chapman.
"They all definitely taught us something about the game, whether it's Shannon with her leadership and passion for the game, Brittany with her perseverance and determination while playing through an injury, or Debben, who taught us to push ourselves but also to have fun at the same time," said Sakamoto.  "They are going to be missed next year for sure."
Jase Magarifuji
Staff Writer
Published April 17, 2013