Dueker hits the Jersey Shore for MTV's Spring Fix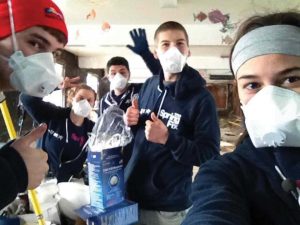 MTV and the United Way teamed up last month to help restore the Jersey Shore with the help of college students from across the country. CLU junior Lyssa Dueker took part in the alternative spring break program, better known as Spring Fix 2013.
Noopur Agarwal, vice president of public affairs for MTV, said this is the second time MTV has put together an alternative spring break, the first occurred in 2006 after Hurricane Katrina. This was the perfect opportunity to empower young people to make a change, said Agarwal.
"Overall, we were looking to find volunteers who came from diverse backgrounds, had different levels of prior experience in community service and a real passion for this opportunity," said Agarwal. "We were really impressed with [Dueker's] enthusiasm about this project and her desire to lead by example."
Although Agarwal was not directly in charge of selecting the participants, she said she remembers seeing Dueker's passion for community service stand out in both her written and video applications.
"It was really clear in her application that she was incredibly driven to make an impact and was willing to give everything that she could to be a part of this," said Agarwal. "We feel really lucky to have had her involved."
Jacquelyn Hale said Dueker, her best friend, was the perfect candidate for Spring Fix because of her hard-working nature and drive, which helped her balance three jobs and school last semester.
"She's very responsible, as well, and she is true to herself," said Hale, a junior at California Polytechnic State University, San Luis Obispo. "I think that her drive is something that we should all strive to have."
Dueker, who found out about the opportunity through her internship at United Way, said it was astonishing to see how little has changed for the residents of the Jersey Shore since Hurricane Sandy hit in October.
"There were actually some houses we would see, like abandoned homes, still had their Halloween decorations up from that time," said Dueker, a global studies major with a Spanish minor. "It's kind of like it's stuck in time over there, because so much hasn't changed yet."
The 50 participants were broken up into five teams and assigned various tasks along the Jersey Shore. The wolf pack, as Dueker's team called themselves, was assigned to help demolish a church basement in Rockaway Beach, N.Y.
"No one ever complained," said Dueker. "No one was like 'I'm tired,' no one was like 'I'm hungry.' Everyone did the work because you know it's bigger than yourself, so that was fun."
Working in the church basement not only landed her the opportunity to meet Andrew Jenks from MTV's World of Jenks, but Dueker said it also taught her a valuable life lesson.
"I learned that when a disaster happens we kind of forget about it because it didn't happen to us and it's really far away," said Dueker. "A couple months afterward, it's not in the news anymore so you go, 'Oh that's fine,' and then you go over there and there are places like this church that are still completely destroyed and you had no idea."
On the last day, all 50 participants were brought together at a local Six Flags, where they were treated to a concert by Ne-Yo and guest appearances by the cast of MTV's hit reality show "Jersey Shore."
Although the project has ended, Dueker and her team wish to help finalize the church basement they worked on by holding a fundraiser. To learn how you can help, contact [email protected].
Mayra Ruiz
Staff Writer
Published April 17, 2013