Color Dash paints the campus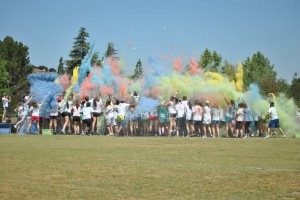 CLU's first ever Color Dash 5k was Saturday, April 27, where students were doused in colored hues as they ran. The race was for students, staff and alumni to celebrate healthiness and happiness and embrace the CLU community.
Amanda Namba, senior coordinator for student involvement and Wellness Programs, was promoter and planner of the Color Dash. Namba came up with the idea while working with Emily Casarez, a Wellness Programs intern.
"It's something we've been talking about since last spring. We've really wanted to host one at CLU and make it happen and the last few months we've really been in the stages [of] planning and prepping," said Namba.
Saturday's event served as a trial for what could be an annual run.
"I hope for it to become an annual event. Saturday is going to determine if it happens again next year. We know its going to be messy. We intentionally planned out the route to avoid making as much mess as possible," said Namba.
Students, almumi and staff got in line to register at on Saturday at Ullman Stadium, where the fee for students was $5, and for alumni and staff was $10. Proceeds from the registration costs went to the health and wellness programs. Many runners were already in colorful outfits, some wore polka-dot socks, neon headbands and sunglasses. A lot of students were socializing and getting into their wild outfits in the parking lot of Mount Clef before the Color Dash kicked off.
Freshman Jenny Garnard was in the line for registration, along with her friends Nisha Kondrit and Becky Drake, also freshmen. Garnard and Drake had never heard of the Color Dash until Kondrit told them about it. She motivated them to come.
"Lately, I've seen a lot of pictures and videos of other color dashes on Facebook. It seems to be something that is catching on and people are having fun with. I thought it looked like something I'd like to do," said Kondrit.
They weren't sure what they were in for, but they stood in line, listened to pump-up music and waited to begin.
At 10 a.m. runners and walkers got started on the course, where there was a stop at each kilometer where they were doused with a different color.
At Mount Clef Stadium, everyone got into a big circle for the final color dousing.
Volunteers and participants threw the colors up into the air, where they all mixed for the ultimate end of event celebration while participants smiled and laughed.
Brock Funfar
Staff Writer
Published May 1, 2013